Louis van Gaal: Manchester United boss eyes debut title
Last updated on .From the section Football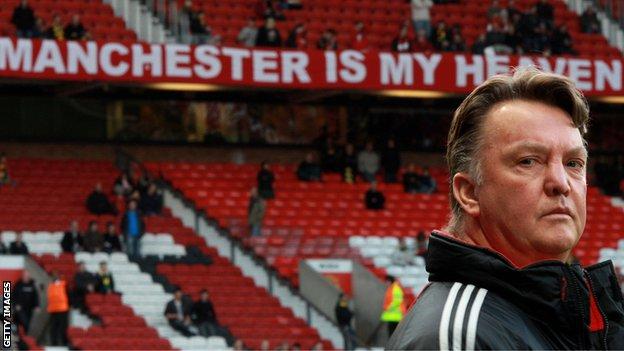 New Manchester United manager Louis van Gaal wants to replicate his feats at Barcelona and Bayern Munich by winning the league in his first season.
The Dutchman won the 1997-98 La Liga title at Barcelona before securing the 2009-10 Bundesliga with Bayern Munich.
Three managers have won the Premier League at the first go - Chelsea duo Jose Mourinho and Carlo Ancelotti and Manuel Pellegrini at Manchester City.
"I would be proud if it works right away," said 62-year-old Van Gaal.
Speaking on Dutch TV station RTL, Van Gaal said his immediate objectives were to return United to "number one spot" as soon as possible and that fans "will think they are champions of England again within a year".
He added: "Spain saw me succeed in my first year and in Germany as well. In England, it must also be possible.
"But there can only be one champion."
Mourinho was the first manager to win the Premier League in his debut season, leading Chelsea to the title in 2004-05 during his first spell in charge. Ancelotti emulated that achievement at Chelsea in 2009-10 while Pellegrini led City to this year's title.
Van Gaal, who has signed a three-year contract at United, has won seven league titles with four different clubs - Ajax, Barcelona, AZ Alkmaar and Bayern Munich - and he has set his sights on adding to that haul in his debut season.
United finished the 2013-14 campaign seventh in the Premier League table and failed to qualify for Europe for the first time in 25 years, leading to the sacking of David Moyes.
Van Gaal, who will take charge at Old Trafford after leading the Netherlands at this summer's World Cup in Brazil, said he was already in deep discussion over new signings for next season.
But he refused to confirm he had been handed a considerable budget to strengthen the team after a disappointing season.
"I've haven't talked to them [the club] about money, only over the players that I would like to have and those that may leave," he said.
"I've never been one to bother about transfer sums. That, the club can negotiate. I just want to know what is possible and what is not."
Van Gaal intends to meet with former manager Sir Alex Ferguson, who has remained at Old Trafford as a director since retiring a year ago.
"I will certainly go for a drink with him," Van Gaal added.
"I've often done it before. We are like each other, I always put more pressure on myself than other people do."
Van Gaal said he had sent a text message to family and friends 30 minutes before Monday's announcement by United, including one to Chelsea manager Mourinho, his former assistant in Spain.
"He was the first who responded," said Van Gaal.
"He said he was jealous of the list of clubs that I have worked at."
On the process of signing for United, Van Gaal added: "It didn't take very long.
"I was approached directly after the sacking of Moyes. I have negotiated much longer with other clubs."