Paul Brannan named as new St Paul's manager
By Brent Pilnick
BBC Sport
Last updated on .From the section Football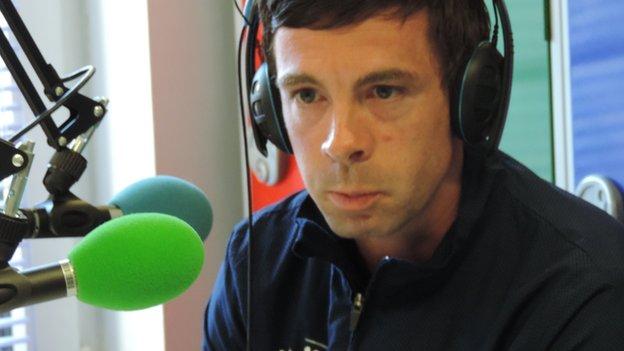 Paul Brannan will take over as manager of St Paul's after Kevin MacCarthy has stepped down from the role.
Brannan has previously been Pat Brennan's assistant at Jersey Scottish and is coach of Jersey's women's team.
"There's some of the best players in the island at the club and some of the best young players coming through the system," Brannan told BBC Radio Jersey.
"It's a fantastic opportunity for me to work with them."
Brannan says he hopes to continue in the long line of coaches who have brought success to the club, such as Martin Cassidy and Craig Culkin.
"I'll hopefully take the same levels of professionalism and standards I take with me everywhere," he said.
"When you're involved with a club such as St Paul's, it's your ambition at the start of the season to win as much as you can.
"We need to maintain that level of performance in the league and hopefully dominate on all fronts - and the players are ambitious enough to be achieving those goals."
Former Jersey, First Tower and Portuguese Club boss MacCarthy led St Paul's to an
Saints won 13 of 16 matches as they averaged four goals per game.
They also won the Le Riche Cup and made the Charity Cup final under MacCarthy.
"I've been in it for such a long time now that I think my time has come," he told BBC Sport.
And the Welshman says this past season at the helm of St Paul's has been the highlight of his time in charge of teams in Jersey.
"I've thoroughly enjoyed it and it's been fantastic," he said. "They're be a great bunch of lads to be involved with. I've never had a season like that before."
MacCarthy was unable to commit to the club next season because of personal commitments.
"As a committee and as a club, we are sorry that Kevin has come to this decision," said a St Paul's statement.
"His hard work, effort and commitment as first-team manager has been instrumental in St Paul's success in Jersey and Channel Island Football this season.
"We would like to thank Kevin and his management team, Paul Devinish, Jimmy Reilly and Paulo Campos for the work that they have done last season."
MacCarthy has ruled himself out of taking the vacant role of Jersey manager after former St Paul's boss Craig Culkin