Michael Weir says Jersey FA 'ludicrous' to interfere in selection
Last updated on .From the section Football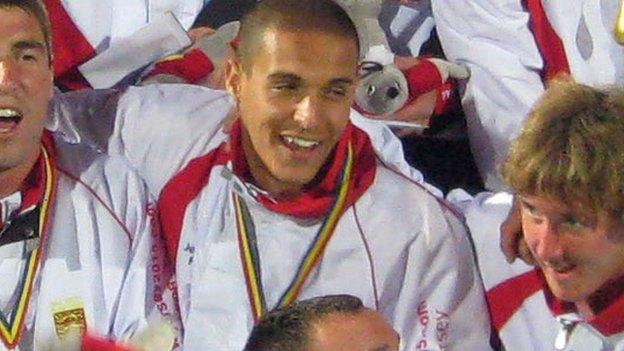 Michael Weir says the Jersey Football Association was "ludicrous" to interfere with manager Craig Culkin's decision to pick him for the Muratti.
Culkin after the Jersey FA questioned Weir's call-up.
He had been playing at non-league Bognor Regis Town this season.
"I'm a Jersey-born player, I've come up through the Jersey ranks and played at every level apart from senior football, so think their views are ludicrous," Weir told BBC Radio Jersey.
Under Jersey FA rules, the 23-year-old is eligible to play for the island in their annual clash with Guernsey as he was born and brought up in Jersey.
But the Jersey FA felt that players who had been playing in the island's league should have been picked ahead of Weir, who spent time as a youth player at Southampton before playing professionally in Portugal and Cyprus.
"If I was a player from the mainland and I wasn't Jersey-born and they just shipped me over just to play then I would totally understand their point of view," said Weir, who was part of the Jersey team that won the gold medal at the 2009 Island Games.
"But I'm a Jersey-born player, I played here on the island through the Jersey FA and represented Jersey.
"Just because I'm playing somewhere else why shouldn't I be able to represent my island?"
Despite Weir's bad first experience, he says he would still consider playing for the island again.
"It depends on the manager and where I'm at in my career, and the JFA as well and what their views are," he explained.
"Whenever I could get the chance I'd love to play for Jersey."
Jersey were in their annual match, the third time in as many seasons that Guernsey have won.
Their streak coincides with the foundation of Guernsey FC, which sees the best players in the island play in the English league system, a model Weir thinks Jersey should follow.
"I feel if Jersey or one club in Jersey can get the funding for it, then I think it's definitely the best way to improve Jersey football," he said.
"Right now just playing within Jersey you're never going to improve.
"Guernsey have come on a lot compared to Jersey, and from what I've seen Jersey have gone backwards to be honest in the last few years in terms of football."