Women's FA Cup final: Manager exit shocked Arsenal - Stoney
Last updated on .From the section Football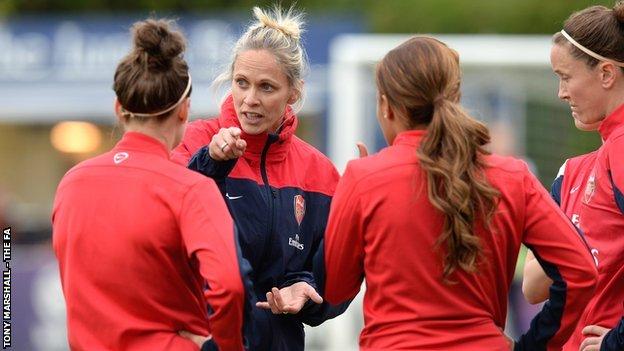 England and Arsenal Ladies defender Casey Stoney is writing a regular column for the BBC Sport website this season.
Shelley Kerr's decision to resign as the Arsenal manager after this Sunday's FA Cup final against Everton came as a huge surprise to me and the other players.
She spent a long time telling us the news after the defeat by Bristol Academy on Sunday and even though she had mentioned she was considering it beforehand, I was still gutted to find out because she has done so much for me since she brought me to Arsenal in January.
There has been some talk that the players have not been behind her but none of us wanted her to leave after only 16 months in charge. When we first heard her thoughts we had long discussions trying to find out if we could persuade her to stay.
Unfortunately, our third consecutive defeat did not change her thinking. After she resigned, my first thought was: have I let her down? I almost wanted to apologise because we are all accountable for sitting at the bottom of the Women's Super League.
Now we have a massive game against Everton on Sunday to make sure she walks away with an FA Cup winner's medal.
Arsenal have won the trophy a record 12 times and, until last season, had won the top-flight league in nine of the past 10 seasons, but with that record comes a lot of pressure.
If the team is not winning then questions are asked of the manager and the players and we must all accept responsibility. One of the fans at a recent game abused Shelley so badly I don't know how he didn't get thrown out of the stadium, but when you hear things like that you wonder if that has an effect.
I don't know a huge amount of detail but I get the impression Shelley has been thinking long and hard about the decision and feels she has taken us as far as she can. I also think that her daughter moving back to Scotland has been a contributing factor.
So was she up to the job? I believe so. In her first campaign in charge, she guided Arsenal to wins in the FA Cup and Continental Cup and had we not been docked three points for fielding an ineligible player, we would be in the Champions League next season.
Shelley has done everything she can - we are training more than we ever have done - but any manager in her position would have found it difficult after losing eight players from your squad with over 450 caps between them.
One of them, Scotland's Kim Little, was the best player in the Women's Super League, and we have also had England midfielder Jordan Nobbs out injured. When she is back we will be a very different team.
Add to that, the fact that so many players - including me - have come in and it was never going to be an easy task.
Some people have drawn parallels between Shelley and Manchester United boss David Moyes. Both are Scots and both were put in charge of overseeing a transition in the club's fortunes after a period of sustained success.
Moyes, who was sacked after less than a season in charge, had big shoes to fill regarding Sir Alex Ferguson, but the difference between Moyes and Shelley is that he did not lose so many key players. He still had the same squad.
Did those former players lose faith in her first season? I just think that several players wanted a new challenge.
Kim Little went to play in the United States, England captain Steph Houghton left to be closer to home and join a fresh team in Manchester City. We have such short careers that if someone offers you more money to do the same job, you would be silly not to take it.
The Arsenal players and the club itself have not experienced a period like this before; volumes of players leaving, losing games, not being in the Champions League.
But now it is up to the players to show their character, fight for every point, every single ball and make sure they start on the front foot for every game.
We are only four games into the league season and we have beaten top-of-the-table Birmingham and a very good Chelsea team to reach the FA Cup final.
It is just about being more consistent and hopefully the new manager will be able to restore our confidence a bit. That decision is down to the club.
I can only assume that the timing of Shelley's departure coincides with the break we have after Sunday's match; our next game is not until 29 June so the new person will have some time to bring in their philosophy and get the team playing again.
First of all, though, we all want to win on Sunday and we now have the added motivation to make sure that Shelley walks away proud of us all.
This whole episode just shows you that things are being turned upside down in women's football now. There is no established order.
Casey Stoney was talking to BBC Sport's Alistair Magowan