U17 Euro 2014: England history beckons for Taylor Moore in final
Last updated on .From the section Football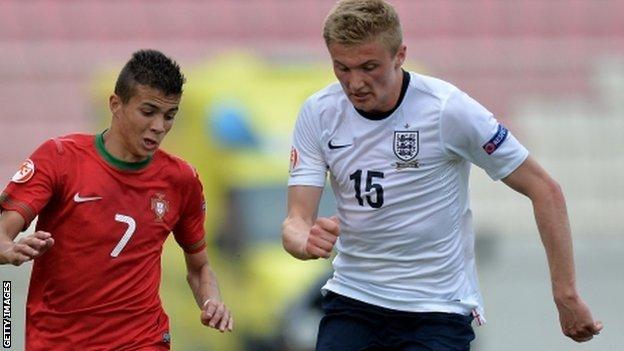 England midfielder Taylor Moore will create a piece of history if he helps his side beat Holland to win the Under-17 European Championship on Wednesday.
England internationals plying their trade abroad are rare. No-one has won a major prize while playing overseas.
Moore, who grew up in France and plays for Lens, could do exactly that.
"I have the best of both worlds," said the 17-year-old. "French and English football are different but I intend to learn from the strengths of each."
Moore's route to the final at Malta's Ta'Qali National Stadium is an unconventional one.
Brought up until he was eight in Walthamstow, east London, Moore's family then moved to northern France, intending to remain for only 12 months.
They ended up liking it so much they are still there, meaning Moore's development, and that of his three younger brothers, has been through the French system.
It is markedly different to the one he would have been exposed to had he remained in England.
From his local club he was spotted by Lens, and he was so impressed at the set-up he decided to join.
"In France they have Under-17s and Under-19s, the reserve group and the first team," said Moore.
"From 15, you go full-time at a youth training camp. You live away from home, the club sorts out your schooling and basically watches over every aspect of your life, including what time you are asleep.
"My stories make some of the English lads raise an eyebrow but if the statistic about more professional footballers in the world being from France than any other nation apart from Brazil at the moment is correct, they are obviously doing something right."
Moore has no complaints, which is why there is no hurry for the Tottenham fan to return to the country of his birth.
"I would love to play in the Premier League, but my club has just been promoted to the first division in France and I still have my education to finish, so I am happy where I am," he said.
"The future is very unpredictable and it is better to have something you can fall back on."
The immediate future is a Netherlands team that defeated England earlier in the competition and scored five against Scotland in their semi-final.
"There is definitely a sense of revenge for that first game," said Moore.
"For all of us, this will be the biggest game of our lives. Everyone will have a few nerves but there is a sense of excitement as well."