Midfielder Mark Carrington eyes Wrexham Football League return
Last updated on .From the section Football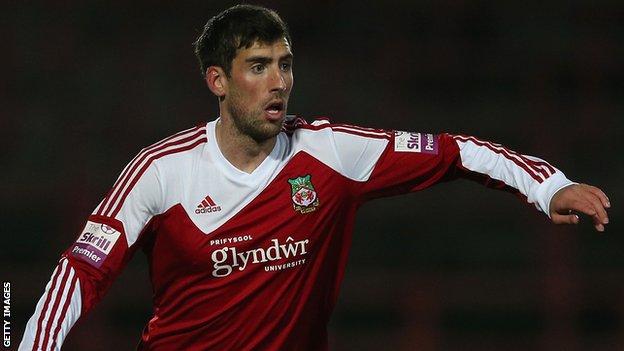 Mark Carrington has targeted promotion to the Football League after signing a new contract with Wrexham.
He is confident Wrexham can return to the Football League after an absence of seven seasons.
"Last season was the first season I spent outside the Football League and my aim is to get back into the League," Carrington said.
"My aim is to get back into the League with Wrexham and hopefully next season we can do that.
"There's no way I would have signed for a team I didn't think was capable of winning things and getting back up into the League.
"Everybody wants to win things and as a footballer that's why you play to win, and as a player I believe we can do that next year."
Warrington-born Carrington started his professional career at Crewe and had spells with MK Dons and Hamilton Academicals.
Carrington revealed he rejected offers from other Conference Premier clubs and some Football League clubs before committing to Wrexham.
"I did have a few little bits here and there from other clubs," Carrington said.
"But as I'd always said, I wanted to stay at Wrexham and when the offer was on the table that's where I've chosen to stay.
"I believe there are good things going on at Wrexham. This could be our time now."