Southampton should not sell youngsters - Nicola Cortese

Last updated on .From the section Football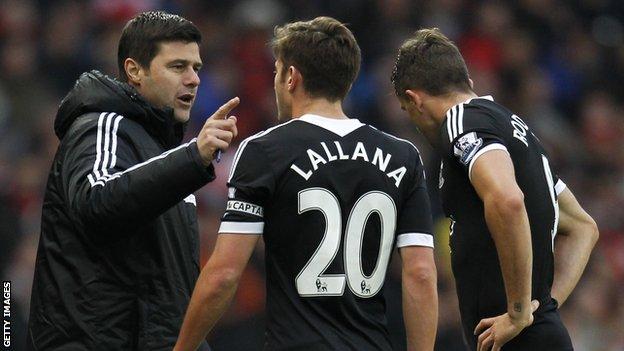 Ex-Southampton chairman Nicola Cortese believes the club risk undermining their recent success if they sell their best young players this summer.
In his first interview since quitting in January, Cortese says if he had stayed the futures of Luke Shaw, Adam Lallana and manager Mauricio Pochettino would not be in doubt.
"We created those talents," he told BBC Sport. "It was key to keep them.
"You don't produce them just to sell, otherwise you give away your ambition."
Manchester United have reportedly made a £27m offer for 18-year-old left-back Shaw, while Liverpool remain in talks over a move for captain Lallana, 26.
The Anfield club have also made an enquiry for highly rated central defender Dejan Lovren, while midfielder Morgan Schneiderlin, also 24, has attracted interest from a number of Premier League clubs.
However, Southampton are unwilling to sell any of their players.
Cortese, who took charge of Southampton in 2009 when they were in League One, said he was confident none of his players would have left if he had still been chairman and was never worried about losing star names.
"I can tell you that I didn't have that fear to the last day I was at the club," he said.
"I was confident about plenty of conversations I had with the players. I knew the players themselves wanted to stick together because this vision was something they believed in, too. I didn't see any reason for them to go.
"I didn't have written offers, but I obviously had phone calls. My answer was that it was not going to happen for at least the next two seasons. The other chairmen respected that. Until the day I left, there were no offers."
Southampton started the 2009-10 season in League One on minus 10 points after entering administration under a previous regime, but won promotion to the Championship the following season.
A second successive promotion took them to the Premier League and they finished this season in eighth place.
It was a season that also saw four players - Lallana, Shaw, Jay Rodriguez and Rickie Lambert - win England caps.
The future of Pochettino, who took over in January 2013, has not yet been resolved with a year of his contract remaining. Tottenham are known to have him on their shortlist of candidates to become their next manager.
Cortese, though, warned the Argentine about the risks of moving on from St Mary's too quickly.
"I don't know what has happened since I left, so it is difficult for me to judge whether he potentially wants to leave or whether the offer from another club is really that good," he said.
"That is beyond my knowledge, but he is ambitious and rightly so.
"When you plan a career, it is important to make the right decision at the right time. Often we have maybe seen people take too quick a step which ultimately backfires.
"But he has to make his own decision. He is a young manager. He has plenty of time to have a great career."