Jess Clarke: Notts County Ladies striker embraces England recall
By Owen Phillips
BBC Sport
Last updated on .From the section Football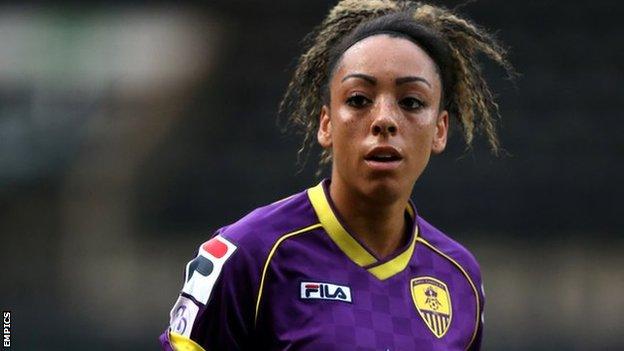 Jess Clarke is in form, fully fit, back in the England set-up and cherishing every moment.
With a World Cup looming next summer, the 25-year-old's timing is impeccable.
But not that long ago the Notts County winger-turned-striker's international recall seemed a fair way off.
A couple of "really tough seasons" saw Clarke struggling with injuries and unable to find her best form in a struggling team.
Injury saw her miss out on the London 2012 Olympics and she was then dropped from Mark Sampson's first England squad in December 2013.
"Mark did not see me as part of his squad and basically said 'I want you scoring goals' and I have worked on it," she told BBC Sport.
"He was 100% right with what he said to me. He was spot on. He said it was a difficult decision and I don't want you to see it as a negative.
"It's given me ammunition to say 'I want this' and I think it is what I needed to get selected again.
"I took the information on board and worked closely with the staff here and focused on that and playing well for my club."
It clearly worked. The pacy attacker's nine goals in 10 games in all competitions have helped Notts climb to third in the Women's Super League table and practically forced Sampson to pick her.
The "end product" that Sampson demanded has been delivered in some style. But it has come about because of a change in position that saw Clarke switch from winger to striker to replace injured England forward Ellen White.
"Losing Ellen was a massive blow," Clarke said. "She is a key player for England and Notts and is a fantastic player.
"For me, signing Ellen was fantastic - I was thinking 'come on, this will be great'. We were training together and we were working on different aspects and getting an understanding.
"But I have had to step into Ellen's role. I have played the number nine role before and it was probably a bit out of my comfort zone but I have enjoyed it."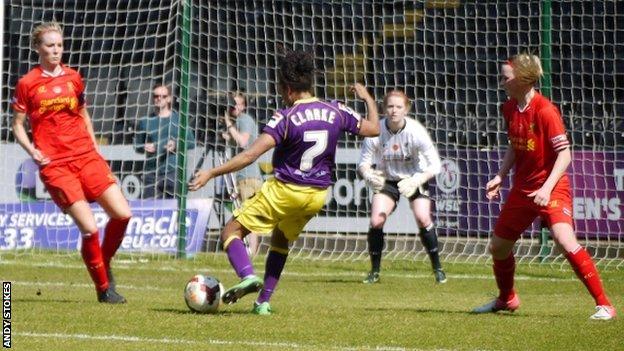 Clarke is in the squad for the World Cup qualifiers against Belarus on Saturday, 14 June and Ukraine on Friday, 19 June.
Such is the depth of attacking talent in the 23-strong group, she is unlikely to start.
But, with six wins and four draws from 10 games so far, the prospects of England playing in Canada next summer look excellent. Having played 11 minutes on her return in the 4-0 thumping of Ukraine in May, Clarke is clearly back in Sampson's plans. And she has plenty of time to get back in the starting line-up.
After missing out on being a full part of Team GB at the London Olympics, a World Cup is a wonderful incentive.
But club football is dominating her thoughts at the moment. The rebranding and relocation of the Lincoln Ladies to Notts County has led to full-time football, increased attendances and a much-appreciated link with the men's team.
Ray Trew owns both teams and Clarke says playing at Meadow Lane in a new-look league has been great on all levels.
"It's been fantastic," Clarke added. "We have a good start the spirit is great and that goes a long way.
"We are creating chances and scoring goals. We have had a few injuries but the younger girls coming in have done really well.
"We are quietly confident. It would be great to finish top two or three and maybe get some silverware. But now everyone else in the league is probably thinking that now. It is so competitive,.
"The game is massive now. The teams are becoming more professional, the girls are training more and that has raised the standard. Training full-time with the team means I am learning new stuff.
"It's looking really positive - especially here at Notts County. The support we have got from the fans and local community is fantastic.
"The facilities here are brilliant. We train at Meadow Lane and to play in a stadium like this is any footballer's dream. I remember playing in the park so I'm living my dream."
The standards set at Notts by manager Rick Passmoor have also kept Clarke on her toes.
"He is always on our case - with all of us," Clarke added. "He is very professional and you can see his passion from the sidelines.
"All he wants to do is win and I think that shines through. Your diet, recovery, everything is all in place. I love it, and am embracing every minute of it."
It's a good job because the standards are increasing. Clarke sees that with the quality of the youngsters coming through.
"I have had people come along to watch women's football for the first time and they see the standard and they are amazed," Clarke said. "People are noticing. I have seen the standard increasing and that just makes me even hungrier."
Clarke will still only be 26 at the next World Cup so there is plenty more to achieve.
"Notts has been my priority and if I am doing well than England opportunities will come," she added.
"To play for your country is an absolute honour. I would love to go to the World Cup but who wouldn't? I just have to play well and give myself the chance."
It's a chance she's doing all she can to take after a testing couple of years.