Terence Brannigan steps down from role as Glentoran chairman
Last updated on .From the section Football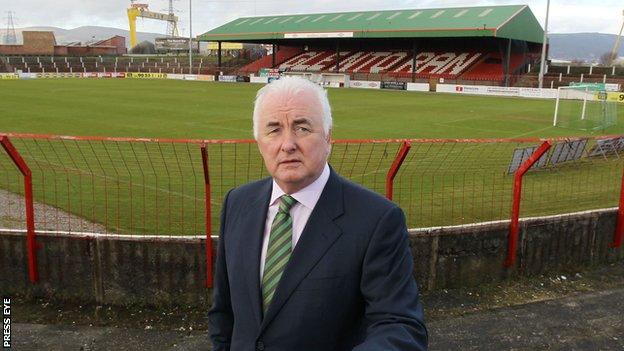 Terence Brannigan has stood down from his position as chairman of Glentoran football club and has been replaced in the role by Stephen Henderson.
Brannigan tendered his resignation ahead of the club's annual general meeting on Tuesday evening.
Mr Brannigan became a member of the board at the club three years when it was in serious financial difficulties.
The club's accounts for the latest financial year show a return to the black with a trading profit of £83,000.
Glentoran's financial problems in recent years have included an inability to pay player wages on a number of occasions.
In his resignation statement, Brannigan said that he was pleased that the club had achieved its "objective for 2013/14 [which was] to break even on the season's trading".
"I am pleased to report that we not only achieved this but, due to our success on the pitch and by making a further reduction in our overheads, we delivered a trading profit of £83,000," added the outgoing chairman's statement.
"Even whilst imposing continuing constraints on our budget, we did win last season's Irish Cup and managed to achieve a top-five finish in the Irish Premier League this year.
"Whilst this does not satisfy the ambitions of this great club, given that our initial key objectives were to ensure financial survival and then to create stability, it does point toward a better on-field future for our club.
"However, I feel that, now that we have clearly demonstrated that our club can not only remain in existence, but can enjoy some measure of success whilst operating within its means, the time is right for me to formally hand over leadership of our club to other individuals within Glentoran who have helped play a major role in improving our position."
Mr Brannigan added that "other commitments" meant that he could no longer deliver the necessary level of time to the club in its "next phase of development".
New chairman Henderson described his appointment to the role as an "honour".
"I want to thank Terence Brannigan for all his input, guidance and hard work over the past three years, during which the club has come through some very difficult challenges," added Mr Henderson.
"This remains a challenging time for Glentoran but I and the rest of the board will continue to ensure stability and complete commitment to both the day to day running of the club and to securing the club's long term future in a new stadium within East Belfast.
"On the issue of relocation, I have met directly with those individuals who since 2011 have supported our efforts to stabilise the club, who have helped progress the stadium plans and who will help secure the necessary funding.
"I am pleased to confirm to our supporters that these key individuals have confirmed that their commitment to securing these goals remains as strong as ever."