Champions League: Chelsea return unhealthy - Thibaut Courtois
Last updated on .From the section European Football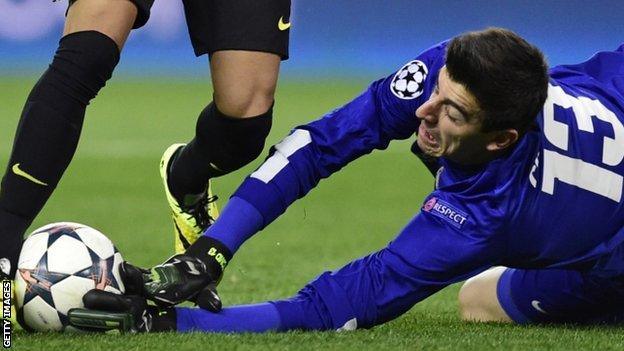 Atletico Madrid goalkeeper Thibaut Courtois says his future is "unclear" as he prepares to play Real Madrid in Saturday's Champions League final.
"The two of us want to play everything. Nobody will be happy to play in only the League Cup or FA Cup," he said.
"Things are unclear at the moment."
Courtois added that the high standards set by 32-year-old Cech, who has been at Chelsea for 10 years, meant it might be best for both if he continued his career elsewhere.
Cech was named in the Professional Footballers' Association Premier League team of the year for this season.
"I have the biggest respect for Petr Cech. He is one of the best goalkeepers in the world so I think putting him and me in the same team is not the healthiest thing in the world," Courtois told BBC Sport.
"We will see in the next week if we can sit together with Chelsea to find something for next year, find out what they want, what my desire is. We will see."
A clause in the agreement between Chelsea and Atletico had stated that the Spanish club would have to pay a penalty clause, reportedly £5m, for Courtois to play against them in both legs of the Champions League semi-final.
However Uefa stepped in to rule that the clause was void and Courtois made several good saves as Atletico triumphed 3-1 on aggregate to set up a final against city rivals Real.
"It was strange and weird knocking out Chelsea," said Courtois.
"Normally when you win a semi-final you celebrate really hard but I didn't do it because Chelsea bought me and gave me the opportunity to play for Atletico for three years.
"I think I showed respect to the Chelsea players and supporters and they to me. It was a nice feeling and hopefully I can give them those things back in the future."
While Chelsea manager Jose Mourinho has bemoaned his side's lack of attacking threat this season, Courtois is set to be tested more thoroughly by a Madrid side that features Ballon d'Or winner Cristiano Ronaldo and the world's most expensive player in Gareth Bale, along with France international striker Karim Benzema.
"We know these are top players and it will not be easy," he said.
"I think we will play the same game as we always do. There are some teams that play more defensive against us and we found it more difficult to make the game.
"Against Real Madrid they will have to come more. We will have to defend well and play more on the counter-attack."
You can hear the full interview with Thibaut Courtois - including what film Atletico boss Diego Simeone shows his players to inspire them - in BBC Radio 5 live Sport's Champions League preview show on Wednesday from 19:30 BST.