Ex island manager Craig Culkin aims to set up a Jersey FC
Last updated on .From the section Football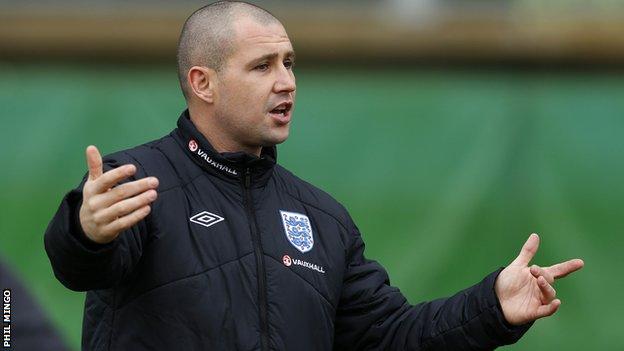 Former Jersey boss Craig Culkin says he wants to set up an island side to play in an English football league.
The former St Paul's manager says the time has come to give a bigger challenge to the best local players.
He hopes to replicate Guernsey FC, who now play in the Isthmian League, and have beaten Jersey in the
"We need to get off the fence and start taking action," Culkin, who told BBC Jersey.
"I hope to bring some people to the table with a meeting in the next four to eight weeks with players, managers and the Jersey Football Association, to see where the land lies.
"It's a dream, it's a vision and I know where we want to go.
"The formation of a Jersey Football Club can only benefit the island game and I think there is a public demand for it.
"In the next four to eight weeks I'll be working with people to bounce ideas and see if we can drive it forward."
Football in Jersey has stood still while the and the island's cricket team is now an international nation and is in Singapore next month.
But those who run the game say a new island side playing in an English league would
The Jersey Football Association has already said but says it is not the job of the FA to set up a team, but to govern the game in the island.
There are 18 clubs that play in two divisions in the Jersey Football Combination, although the league is dominated by St Paul's and Jersey Scottish, who between them lost just once in the league last season.
Since 2004 only one side other than Scottish or St Paul's, St Peter in 2006, has won the league title.
"It's clearly evident that there's a gap and we don't believe that the structure is good enough," Culkin said.
"A lot of players have lost interest in the game and a lot of coaches who have had success don't want to be involved in the game.
"People say how bad it is, there's no improvements, and some teams are only playing every six weeks.
"Can it get any worse than what it is? I don't think so, it can only improve things," Culkin added.