Champions League final: Real Madrid seek 10th European win
By Andy West
Spanish football writer
Last updated on .From the section European Football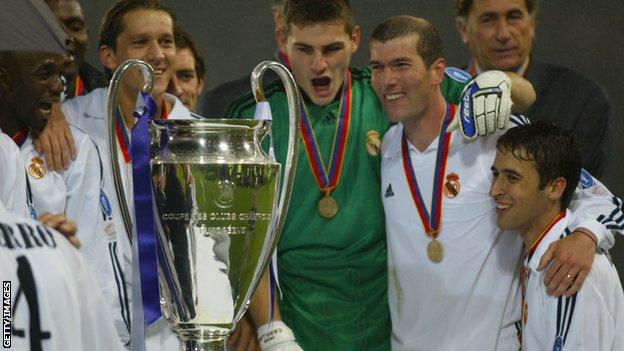 Zinedine Zidane's spectacular winner in the 2002 Champions League final provided an iconic moment for Real Madrid.
Ever since, the worldwide horde of Madrid fans have been looking forward to the day they could celebrate their landmark 10th European success. 'La Decima' ('The 10th') has never strayed far from their thoughts.
More than a decade later, they are still waiting and the yearning has grown into an obsession which makes Arsenal's recently concluded gap between trophies look like a mere mild hankering.
Therefore, ahead of Saturday's Champions League final against Atletico Madrid, Real are precariously teetering with one foot on the edge of glory and the other on the verge of immense disappointment.
In the high-pressure and extreme environment of the Bernabeu, at the most glamorous and hype-ridden club in the world, there is no middle ground.
Win, and the current Los Blancos crop will be hailed as milestone-marking legends; lose, and they will be castigated as inexcusable failures.
Win, and their poor finish to the league campaign - where they finished third behind Atletico and Barcelona - will be retrospectively excused as a period of physical and mental preparation for an even bigger prize; lose, and it will be condemned as the ill-fated onset of careless sloppiness.
An objective and balanced analysis of Carlo Ancelotti's first season as Real boss should conclude that it has been good, if not spectacular. He has introduced a new style of play to replace Jose Mourinho's cut-and-thrust, counter-attacking approach, integrated a number of new signings and secured a trophy in the form of the Copa del Rey.
However, in the eyes of many fans and certainly in the judgement of the frenzied Spanish media, none of that really matters right now.
The only thing that counts is whether Ancelotti can finally end his club's long wait for their 10th European crown; if he doesn't, his work over the course of the campaign will be forgotten and his job, seemingly so secure less than a month ago, will come under threat.
This drastic, disproportionate state of affairs derives from Real Madrid's utter obsession with success on the European stage.
It is a long-held mentality which was sparked by their initial emphatic success on the continent, winning the first five European Cups after the competition was inaugurated in 1955. Those triumphs allowed Real to foster feelings of superiority over the rest of Europe and especially their bitter rivals Barcelona, whose first trophy did not come until 1992.
By then, Real were already on six and within a decade they had raced to nine by claiming the silverware again in 1998, 2000 and 2002, when France star Zidane's volley clinched a 2-1 victory over Bayer Leverkusen at Hampden Park.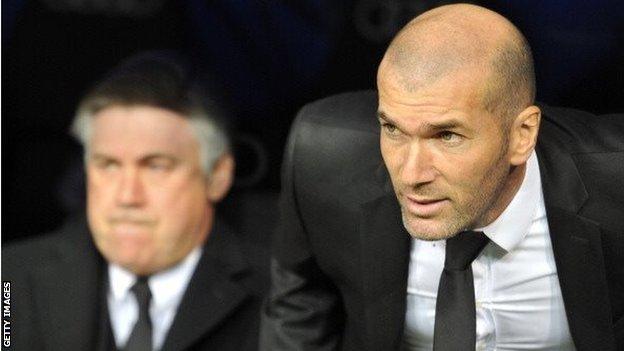 This week, the Real camp has been attempting to play down the burden on their shoulders to realise the 12-year dream, with Ancelotti insisting they should simply be happy to be in the final ("a lot of teams will have to watch on television") and his players claiming they should be regarded as underdogs.
Added spice, of course, is provided by the fact that Real's opponents are their local rivals and newly crowned Spanish champions Atletico in the first-ever European final between two teams from the same city.
And while Real have been desperately trying to persuade themselves and the watching world that they do not feel under pressure, that genuinely is the case for Atletico, who come into the game knowing they have already wildly exceeded all expectations.
Diego Godin's header at the Nou Camp last Saturday, which secured their first league title in 18 years, means that Atletico have nothing to lose and everything to gain; even if they are defeated this weekend, they will still be history-making winners in the eyes of their supporters.
Those Atletico fans have been, naturally, revelling in their team's unexpected success. An estimated 200,000 of them filled the streets of Madrid on Sunday, hailing their heroes as they made a triumphant appearance at Atletico's traditional place of celebration, the Neptuno fountains near the famous Prado museum in the city centre.
"We'll be here again next Saturday," was one of their most heartily delivered songs, illustrating the exuberant and confident mood of Atletico fans as they head into only their second European Cup final.
There is, of course, great expectation on both sides, with Real fans quickly snapping up all 80,000 free tickets to watch the game on giant screens inside the Bernabeu.
But the attitude of the respective supporters is markedly different, with Atletico euphoric after their title success and ready to welcome their players as heroes irrespective of the result, while Real know the judgement of their entire season rests upon the outcome.
Adding to Real's worries is a selection dilemma for Ancelotti following the suspension of midfielder Xabi Alonso, who plays a fundamental role in knitting the team together, though they have been boosted by the news that Cristiano Ronaldo and Gareth Bale are both fit to play.
It was no coincidence that Real first started to look like a coherent unit this season only after Alonso returned from injury in November. The former Liverpool man's positional sense, calm passing and experience provides the glue to hold the team together, and his absence has created a huge problem for Ancelotti.
That is especially the case considering the difficulties experienced by the most obvious replacement, Asier Illarramendi, who has struggled to fill Alonso's shoes since his arrival from Real Sociedad last summer and has recently looked desperately low on confidence.
Other options are presented by 22-year-old Casemiro, a more physical presence who lacks experience after only starting four games all season, or Sami Khedira, but the Germany international has only just returned from a serious knee injury and is naturally suited to a more advanced role.
Worries over Alonso's absence and the effect it will have upon the team's structure and balance are only serving to enhance the atmosphere of tension around Real's preparations for the final, and there is no doubt - they are the team under pressure.
How they can cope with that burden may well be a decisive factor in determining whether La Decima will finally be theirs or whether their agonising wait will continue.