Richard Scudamore row: Seven things we have learned
By Alistair Magowan
BBC Sport
Last updated on .From the section Football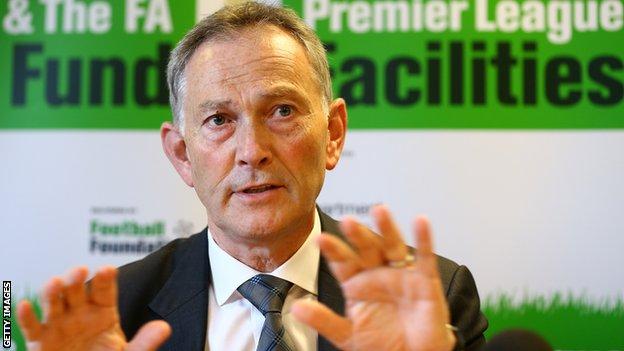 Richard Scudamore has survived the sexism row that threatened his reign as Premier League chief executive.
It has unquestionably been a damaging experience for one of English football's most powerful men, who had faced severe criticism following newspaper revelations he had exchanged offensive emails with colleagues.
But it has also been a landmark moment for the game.
What exactly have we learned?
Premier League are the real powerbrokers in England
If you control the richest league in world football, worth a record £5.5bn over its current three-year television deal, then perhaps it is easy to think different standards apply.
To some, the Scudamore row has proven that.
The FA governs the English game yet it chose not to charge the Premier League chief with misconduct because its policy dictates that private communications are outside its remit.
PA Rani Abraham, who leaked the emails sent by Scudamore, did not regard them as private, however, claiming they were made on a Premier League email account.
Scudamore has disputed that claim. An FA investigation could have discovered who was telling the truth and we could yet see a change to its policies.
But one member of the FA's Inclusion Advisory Board (IAB) thought the governing body had been scared to take action, fearing wider political damage.
That will add to the disappointment of the Women in Football network group, which feels Scudamore has got off lightly and should face an independent inquiry.

Sexism exists from top to bottom of football
After meeting members of the IAB on Tuesday, chair Heather Rabbatts, who also sits on the FA board, declared what many women already knew, that: "Sexism is a major problem across the entirety of the game."
Her views back up a recent Women in Football survey. Of 661 who responded, 436 said that they had witnessed sexism in the football workplace.
Despite these worrying figures, could the Scudamore episode be a landmark case for football?
There was hope at Kick it Out's 20th anniversary dinner at Wembley on Tuesday that the row, for all the damage it has done, could lead to a positive change in culture and help the Premier League move into a more diverse era. In this regard, the pressure on the league will not cease.
Rabbatts is an increasingly significant figure
Heather Rabbatts became the FA board's first female appointment in 2011 and has become a critical voice as football continues to struggle with equality issues.
She spoke out after FA chairman Greg Dyke initially named an all-white and all-male commission to find ways of improving the England team and led calls for Scudamore to consider his position after the emails came to light.
However, the Jamaican-born British lawyer has also found herself in the firing line.
She appointed former Birmingham and Derby player Michael Johnson to the FA inclusion board only to learn he had aired homophobic views.
She also texted her support to Scudamore when the Sunday Mirror story broke only to subsequently declare he should consider his position.
Rabbatts said sending a text to support someone in a personal crisis is "totally different" to her regard for what needs to be done professionally.
Nevertheless, she has given the FA board a different perspective on key issues and her influence will become increasingly important as she works more closely with the Premier League.

Scudamore's reputation has been damaged forever
There has been support for Scudamore from female colleagues at the Premier League and from the likes of West Ham vice-chair Karren Brady.
However, there has also been widespread condemnation of the 54-year-old father of five, with England goalkeeper Rachel Brown-Finnis describing the emails as an "insult to all women".
With women now representing a growing fanbase in the men's game and women's football on course to become the second biggest participatory sport in the country, that is a huge market to upset from a purely economic point of view.
Scudamore appeared slow to realise the extent of the ill-feeling towards him after the Premier League's initial apology.
But Rabbatts said on Tuesday she accepted Scudamore's second apology, describing it as having a "real sense of contrition".
Prime Minister David Cameron also weighed into the debate, claiming that a politician in a similar predicament would have been unlikely to survive the sack. Any further indiscretions from Scudamore would put the Premier League in a difficult position.
Premier League needs a shake-up at boardroom level
The Premier League's anti-discrimination policy states it "will not tolerate sexual or racially based harassment or other discriminatory behaviour" and will take "appropriate disciplinary action" should it occur.
The problem is that the board which administers these sanctions is made up of two people: Scudamore and acting chairman Peter McCormick.
McCormick carried out the investigation into Scudamore, speaking to 17 Premier League clubs, female staff at the Premier League and reviewing emails, and found there was "no climate of disrespect of women in the workplace".
Rabbatts and Dyke received assurances from McCormick that the process was thorough, but would colleagues have given a different version of events had they been given the cloak of anonymity? Abraham has described the process as a "whitewash" and queried how rigorous the checks were, given she herself was not interviewed.
As it stands, Scudamore received no punishment from the Premier League. McCormick also cited "a previously unblemished record over 15 years of service". But if future Premier League governance is to be taken seriously, then perhaps its board needs to be expanded and non-executive directors appointed.
Rabbatts will now work with the Premier League on how it tackles sexism in football, but would a woman non-executive board member help their cause?

Women in Football needs proper funding
Kick It Out is the anti-discrimination body of choice for football authorities and receives about £600,000 each year from the Premier League, the FA and the Professional Footballers' Association.
It has a 20-year history of fighting racism, which it celebrated on Tuesday night, but do other bodies, such as Football v Homophobia and Women in Football, possess more expertise exposing injustices in those areas?
If authorities are genuine about tackling sexism and homophobia, they could demonstrate their commitment by funding those causes independently.
Women in Football has tirelessly fought its case in the Scudamore controversy but has been run on dedication and good will alone.
Nothing is private in the workplace
Sexism has been at the core of the Scudamore furore but it has also drawn football into an interesting debate about privacy.
Is a work email account public or private? Abraham said she was exposed to Scudamore's sexist emails as part of her job, making the private argument redundant.
But how many men involved in football, indeed the wider workplace, are now checking what they have written to see if a potential reader might be offended?
If, as a result, people involved in football think twice about forwarding a potentially offensive email and clean up their communications, then there could be a significant first step to a change in culture.
How the Richard Scudamore controversy unfolded
Sunday, 11 May
- Sunday Mirror publishes sexist comments in private emails to friends.
Wednesday, 14 May
- The Premier League's audit and remuneration committee, agree to meet to discuss the issue.
Friday, 16 May
- Goalkeeper Rachel Brown-Finnis says that the emails are an "insult to all women".
Saturday, 17 May
- Heather Rabbatts urges Scudamore to give "serious consideration" to his position.
Sunday, 18 May
- Sunday Mirror publishes interview with Scudamore's former PA Rani Abraham.
Monday, 19 May
- Premier League and its 17 current clubs rule no further action.
Tuesday, 20 May
- The FA reiterates its decision not to take any action.