Two-goal Cummings revives Hibs' hopes of top-flight safety

By Tom English
BBC Scotland
Last updated on .From the section Football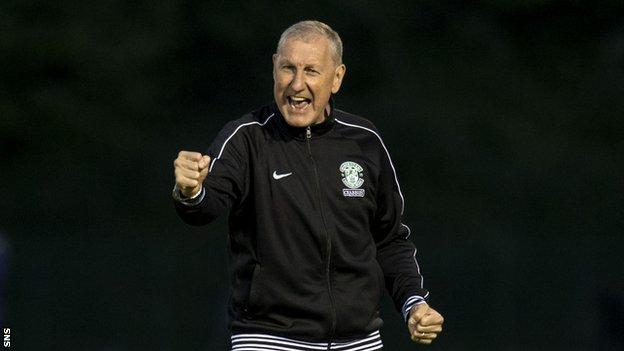 At the end, Terry Butcher summed it up, his tone a mixture of jaded pride and cautious optimism.
"The lads are in the dressing room and they don't know what to do with themselves," he said.
Quite.
Jason Cummings was one of them. Eighteen-years-old and the saviour of the evening for Hibs.
Two goals that lifted his team out of their depression, the first a thump from distance that eluded Hamilton goalkeeper Kevin Cuthbert, the second a delicate chip that crossed the line before being hoofed clear.
"Oh aye, I knew it was over the line," said Cummings, later. "Definitely. No doubt about it." Then he paused. "It was, wasn't it? It was over the line, aye?"
Even in victory, Hibs were second-guessing themselves.
All the darkness above this football club and now, finally, some brightness, some relief.
A two-goal advantage going into the second leg of this play-off on Sunday. It'll surely be enough; a goalless night would have left them vulnerable to failure at the weekend in a home ground that has so often been hostile to the very players it's supposed to inspire.
Even a one-goal advantage would have been fragile when factoring in the Easter Road effect.
Their results there have been lamentable for so long. But two? Butcher has been through the mill so often this season he was not inclined to declare survival as job done. But it's close. Accies have goal-scorers in their ranks, but they'll need something special now.
Following Hibs around the country these past months has had more than a touch of the groundhog day. Different destination but same familiar story: defeat, defeat, defeat.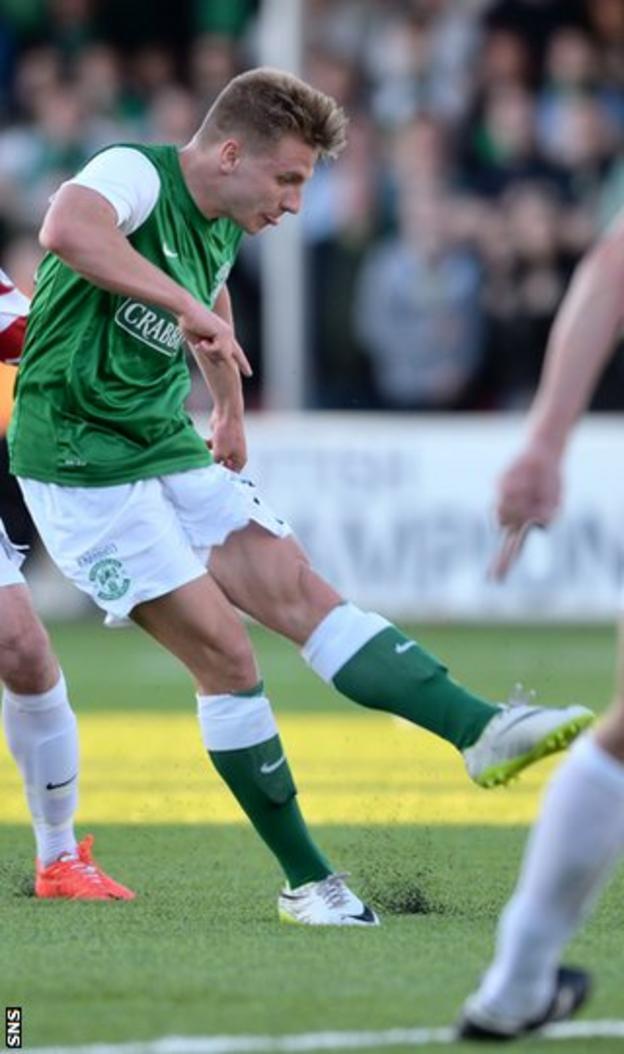 New Douglas Park was a new stop on the journey, Accies something of a free-scoring and trash-talking outfit in the build-up. The hosts gave Hibs some verbals in the preamble.
Oh, how they let them have it. Preying on their nerves; highlighting their run of failure. Their goading words hit the newspapers. Butcher said he ripped out the pages and put them on his training ground wall.
Being Butcher can't have been fun. He had done everything to rouse his players out of a monstrous slump: encouraging, pleading, bullying. Nothing cut it. Nothing. The more he tried to fix it the worse it got.
So this is how we got to this point. Wednesday night in a near-packed stadium with a home crowd sensing weakness and blood. We arrived armed with the usual dossier of Hibs calamities.
The eternity it had been since they won. The numbers that illustrated their powder-puff attack and their vulnerabilities in defence.
They say you can prove anything with statistics - it's just the way you present them that counts. It's not true. There was no way you could present those Hibs numbers in a way that lessened their embarrassment.
The biggest boffin couldn't twist the stats in Hibs' favour. They've been wretched.
In their bid to score the goal - the goals - that would make Sunday's second leg a test rather than an awful torment, Butcher went with two strikers.
To some of us it looked like the rearranging of the chairs on the Titanic. Cummings, with zero goals in his 16 senior games for his club, partnered Paul Heffernan, who has scored four in 20, or to put it another way, one in 14.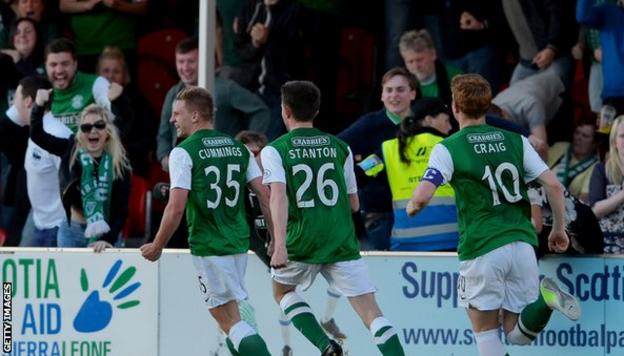 Butcher has players who can score goals, but before last night they'd forgotten how to. That's been but one of the manager's problems. James Collins sat on the bench.
A recruit from England. Eighteen goals in League One last season, including a hat-trick against Stoke in the Capital One Cup. But only six for Hibs and none in the last 15 games; a barren run of almost 14 hours without a goal.
Beside him on the bench, a January addition, Danny Haynes. He used to be decent once, too. He played for Charlton in the Championship last season. Scored seven times in 20 games; scored the winner against Leicester and Burnley, the two teams who a season later secured automatic promotion to the Premiership.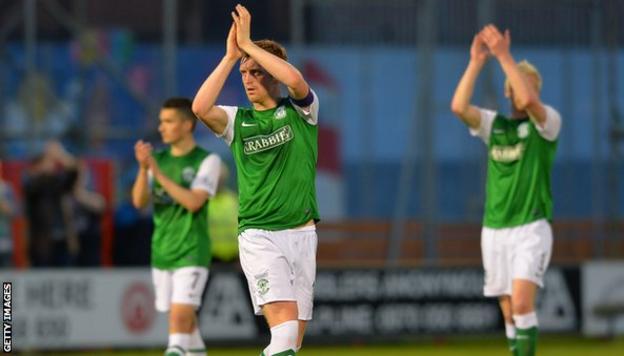 By and large, Haynes played against the same Leicester and Burnley defence that took them to the promised land a few weeks ago. Not a bad player. Not a world beater, but good enough for Scottish football.
But no. Haynes has scored once in 10 games for Hibs. One goal in 9.8 hours. Butcher himself has suffered this way.
Going along nicely in second place in the Premiership with Inverness Caledonian Thistle when the call came from Edinburgh. Admired for his work this season and last. We spoke about the Butcher Bounce when he fetched up at Easter Road, but everything fell flat.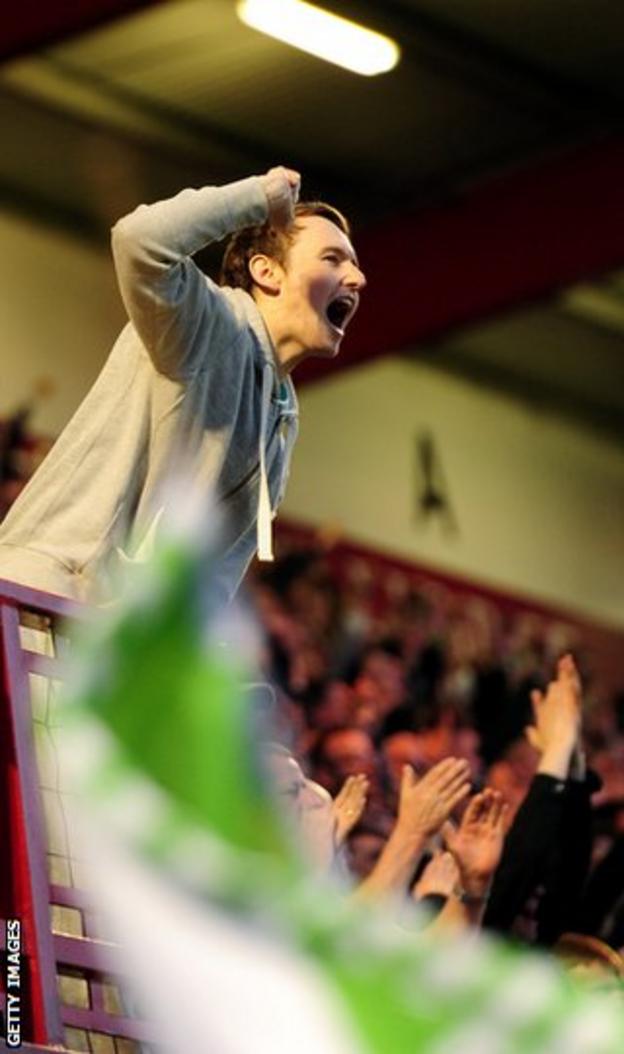 It's as if the lot of them lost what ability they had as soon as they crossed the door.
Thirty-nine minutes into this play-off Cummings rifled his effort on the Accies goal and found a keeper incapable of dealing with it. Later, he delicately lofted a ball over the same man and scored a second. It was Cummings's night. When this team really needed somebody to show leadership and ability it was a teenager who delivered in the most decisive way.
He said he was "overwhelmed" by the response from the Hibs fans, as well he might be. There was a rawness about the reaction from the visiting support, an unmistakeable release of a pressure-valve.
Few of the Hibs fans - or their manager - will be fooled by this, though. It was a pleasing result - and a hugely important one - but the night did nothing to dispel the doubts about this team and the need to knock it down and start again in the summer.
They have work to do on Sunday and then a big job to do in the summer. Cummings eased the Hibee pain but his goals can't disguise the gaping problems that exist.
They will likely survive - and what a relief that will be to them and to the Premiership as a whole - but is that what it has come to for Hibs? Or is there ambition in the place?
At New Douglas Park they came up with an answer to one question, but so many more still exist.