SPFL defends Scottish football broadcasting deal
Last updated on .From the section Football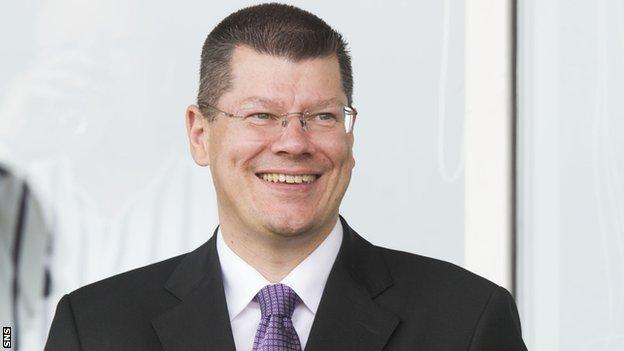 Scottish Professional Football League chief executive Neil Doncaster has defended the broadcasting deal agreed in the wake of Rangers' collapse.
His comments follow newspaper reports that broadcasters have been paid back £750,000 while the Ibrox club have been absent from the top flight.
Doncaster insists compromise was needed to continue the contract.
"The consequences of the deal falling would have been catastrophic for every team in Scotland," he said.
"So the absolute priority was working to agree a new TV deal with our broadcasters - and the best possible deal at that."
Doncaster, who was chief executive of the Scottish Premier League before its merger with the Scottish Football League, revealed broadcasters could have walked away from the deal, which guaranteed four meetings between Celtic and Rangers each season.
He said the "eight-figure investment" each season was of "enormous benefit to all 42 of our member clubs, to the clubs' own sponsors and, of course, to the fans".
"Never was the backing of those broadcast partners more important than in 2012, when they supported our game in its hour of need," he said in an open letter published in the Daily Record.
"It was more than a decade ago that a clause was first built into the then-SPL's live broadcast contracts ensuring four Old Firm games per season were available to be covered.
"Therefore, when Rangers ceased to be a member of the SPL, the broadcasters had the right to terminate the contracts immediately.
"Thanks to the willingness of all those round the table, the talks were successful and we renegotiated a broadcast deal which ensured the single biggest investment in our game would continue."
Doncaster explained there were conditions agreed that have led to payments to ESPN, BT Sport and Sky.
"One was that the broadcasters would be able to access 15 Rangers games per season for as long as Rangers were playing in a league outwith the top tier of Scottish football," he said.
"We therefore agreed a deal to buy 15 Rangers games per season from the then-SFL, to provide to the broadcasters.
"Also, given the broadcasters would now incur increased costs as a result of erecting gantries, building rigging and establishing other facilities at a wide variety of smaller grounds - a significant additional cost compared with the original contract - we agreed to make a contribution to the broadcasters' expenses.
"In effect, the extra costs being incurred to cover games were reflected in a small reduction in the deal with one of our broadcasters."