Mark Roberts: I hid from bailiffs at Northwich - now I'm at Wembley
By Phil Cartwright
BBC Sport
Last updated on .From the section Football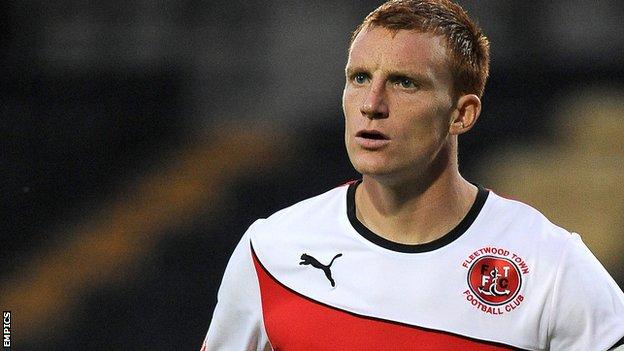 Sitting in a darkened room at an almost-deserted football stadium, listening out for the bailiffs to drive away from the gates, and wondering when he would be paid next by his financially-troubled club.
That was the scenario Mark Roberts found himself in while playing for Northwich Victoria, his home-town team.
He had only gone to collect some bibs and balls for a training session.
"They weren't there long, otherwise we would have been late for training," the defender recalled. "Happily they only did one lap of the ground."
A few years on, Wembley beckons for Fleetwood Town and their 30-year-old captain, who has battled back from serious injury and non-league obscurity to earn the opportunity to lead his side at English football's most iconic venue.
There have been some tough moments along the way, not least coping with the financial problems that crippled Northwich for several years.
Wembley could not have felt further away.
"It's difficult when you get into that non-league circuit if you're in the wrong place at the wrong time," said the former Stevenage centre-back, who moved north to Lancashire at the start of the season.
"Being in the football ground when the bailiffs are coming and switching the lights off to pretend you're not there - within 18 months I was winning the FA Trophy at Wembley with Stevenage. I suppose those are the highs and lows of football."
He continued: "It's a shame to see them now because it's a club that's close to my heart, my local club, and people I know are still there.
"It's those moments that drive you on and remind you of the reality of what could be. It's made me who I am as a player and as a person.
"Those experiences, however negative they may seem at the time - you might not be getting paid, you're waiting for your wages to pay the mortgage and you're wondering where the next pay cheque is going to come from - they're also the things that drive you."
That drive is evident at his current club too. Fleetwood had to reform twice and have enjoyed a remarkable rise in recent seasons, one that has been well documented but is worth revisiting.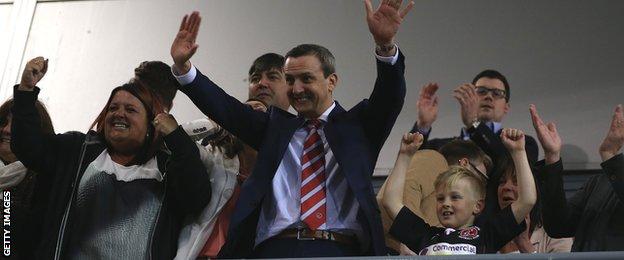 In 2004-05, they were playing in North West Counties Division One, the ninth tier of English football.
Nine years and five promotions later, the Cod Army are on the verge of entering League One for the first time in their history.
Their progression has been made possible by chairman Andy Pilley, who has spent millions redeveloping the club's Highbury home and providing funds for players as Fleetwood rose through the divisions.
"It's nights like this that make it all worthwhile," Pilley told BBC Radio Lancashire after the play-off semi-final win over York that secured Fleetwood's spot at Wembley.
"There are bumps and scrapes along the journey, and over the last 10 years there have been all sorts of ups and downs.
"Just before kick-off, the ground was full of colour. It was packed and the atmosphere was incredible.
"It was one of those moments that makes the hairs stand up on the back of your neck. You think everything's been worth it. It's been an incredible journey."
Defender Nathan Pond is another Fleetwood stalwart to experience those highs and lows.
Just 81 spectators watched his competitive debut for Fleetwood in 2003, and with the exception of short loan spells at Kendal and Grimsby, his presence has been constant over the past decade.
Manager Graham Alexander is full of admiration for the 29-year-old, who was awarded a testimonial at the start of the season. "He is Fleetwood," the former Scotland international told BBC Sport.
"When a club rises through, you get backroom staff that have been there all the way. It's very rare you get a player who makes such a jump of five or six levels, and he's still competing to get to the next level.
"You can go around any department at this club and nobody will say a bad word about him.
"He's not one for the limelight. He just wants to do his job and do his job well. He's been fantastic for us this season and hopefully he'll be just as good for us in the final."
The Fleetwood manager is no stranger to the joy and the heartbreak associated with play-off finals.

In 1992, a 20-year-old Alexander saw his spot-kick saved as Scunthorpe lost a Division Four final on penalties. Seventeen years later, and after two more final failures with Preston, he eventually tasted play-off success with Burnley.
But he has kept quiet about that. In his opinion, sharing his own experiences will not benefit his team.
"I never talk about my playing career. That's gone. It's irrelevant to these players," added the 42-year-old, who guided Fleetwood to fourth place in League Two.
"What might have been right for me might not be right for Antoni Sarcevic or Steven Schumacher.
"What I've tried to do is keep the players as relaxed as possible and focused on what's important. When we did that as a team and as individuals, you played better."
Ambitions are high at Highbury. A Wembley victory would represent another step of the journey being completed, rather than signifying the journey's conclusion.
The same can be said of Roberts, who admits that he nearly gave up on his dream of becoming a professional footballer.
A knee injury limited his first-team chances at first club Crewe, then in the Championship. After slipping out of the Football League, he got another chance with Accrington, but was back in non-league football within a year.
Roberts, who has a degree in sports journalism, said: "I was in the Conference, which is a fantastic level of football, but do you go full-time or go part-time, and look for a club where you can combine the two and start a job?
"Those were the realities I faced. Thankfully I signed for Stevenage, not knowing how successful that was going to be, but made it a success and made the next four or five years the best years of my career so far.
"Fleetwood were looking to do something similar and maybe more, and that was exactly the sort of challenge I was looking out for.
"The club wants to go up, but it wants to keep on going. It's making what other people think is impossible our reality. It's great to be part of a football club that thinks that way."