Neil Lennon legacy leaves Celtic in stronger position

By Tom English
BBC Scotland
Last updated on .From the section Football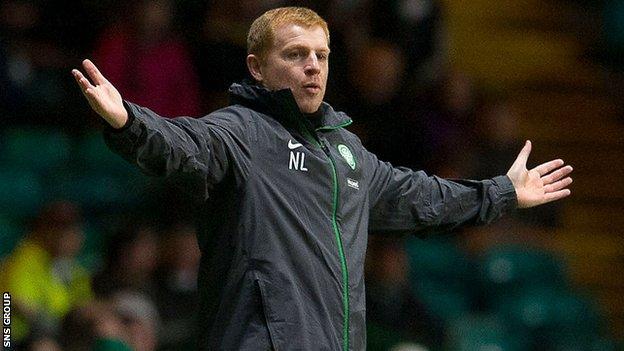 On 4 March 2011, a suspicious package bound for Neil Lennon at Celtic Park was examined at a sorting office in Saltcoats in north Ayrshire. The package contained 248 nails presented as a bomb.
It was a hoax, not that the hoax would have been apparent to Lennon had he had the misfortune to open the thick brown envelope. Mercifully, a vigilant postal worker spared him the added distress.
Later that afternoon, I sat with Lennon in his office just inside the main door at Celtic Park. He was calm but tired, a little shaken but strong at the same time.
Of the many images of his four years as manager of Celtic that, to these eyes, is the most memorable. A private moment in a little office when he sat back in his chair and refused to be cowed by the unreconstructed lunatics who wanted to do him harm.
How others viewed him and abused him was a theme he was regularly drawn into. He could never shake off the hangover from some of his goading years as a player when he said and did some things that drew the heat from the other side of Glasgow.
That was then, but even in recent seasons when he was a studied presence on the touchline, compared to the livewire of before, his reputation as a snarling individual never quite went away, even though it should have.
Lennon matured as a manager, as anybody who has watched him will testify.
The coiled-spring was always only one part of his make-up at any rate. In company, he is funny and bright, relaxed, a fascinating thinker about the game and hugely ambitious. He didn't get everything right at Celtic but the club he has resigned from is in an altogether better state than the club he took over after the dog-days of Tony Mowbray.
For chief executive Peter Lawwell, Lennon should be something of a poster-boy. The departing manager has added fortunes to the coffers through back-to-back qualification for the Champions League and one qualification for the last 16. That season, 2012-13 was the highlight of his time. The home win against Barcelona one of the greatest nights in the modern history of the club.
In his transfer business, Lennon hit the jackpot enough times to make his signing failures more tolerable. Victor Wanyama and Gary Hooper brought in £20m when sold to Southampton and Norwich. Lennon recruited Fraser Forster and Virgil van Dijk, who are both multi-million pound assets. He has signed a number of duds, but the good ones were very good and they compensated.
The problem is that Lennon hit a glass ceiling, as he was always likely to. He collided with the club's financial reality.
Lawwell won't overextend in the pursuit of Europe's last 16. As a manager striving to better himself, there was always going to come a time when Lennon accepted that he could do no more. And that time has been coming for a while.
Gordon Strachan used to talk about the shelf-life of a Celtic manager. He did four years in the post himself and reckoned that was about right. Lennon, clearly, agrees with his old manager.
He has brought to an end an association that has run the gamut of emotions, from undiluted success as a player under Martin O'Neill and later Strachan, to an unhappy bit-part role under Mowbray, to the full metal jacket experience of being the boss.
Bombs in the post and trophies in the cabinet. Truly, Lennon has been one of the most compelling individuals who ever held office at Celtic Park.
His leaving has been on the cards for some time. Privately, Lawwell has been expecting it. More than a year ago he predicted that Lennon would depart at the end of this season. He was right, sort of. Lawwell's prediction was that Lennon would leave for another club, a Premier League outfit, one with prospects.
On that, he was wrong. Lennon has been linked with jobs down south - and that, indisputably, is where he wants to be - but there's no promise, no contract on the table. He is leaving because the challenge at Celtic no longer exhilarated him. Not with the budget at his disposal. He wants a new test in a bigger footballing world. He's gambling that one will come.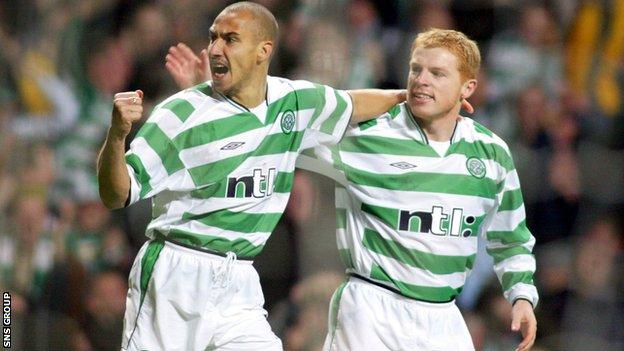 His reign brought him three league titles, but most of them, whether he likes it or not, will forever have an asterisk beside them given the demise of the one team who might have put it up to them along the way. It wasn't Lennon's fault that Rangers dynamited themselves through their own hubristic financial insanity.
Celtic might have won three leagues in any event. But their absence rendered the competition a procession, a cake-walk with none of the fear factor that all managers need.
Lennon might have talked up the league and, no doubt, he took great pride in winning it three times, but the last two in the post-Rangers age can't have been as fulfilling. When your only rival is not there, the significance of the victory has to be lessened.
Everybody needs a challenger. Celtic need Rangers, not in a fiscal sense, but in a competitive sense. For Lennon, the thrill had gone.
You have to analyse Lennon in different ways. He won two Scottish Cups but that competition and the League Cup to boot caused him untold grief. There was the League Cup final loss to Rangers in 2011, before their implosion, and the other final loss to Kilmarnock in 2012. There were semi-final defeats by Ross County and St Mirren along the way. Then the early, and inexplicable, League Cup exit this season against hopeless Morton.
You go back to what the club was like when he took over, though. So spooked by the Mowbray months and unsold on Lennon's capabilities as a manger, they only offered him the job on a temporary basis to begin with. Lennon promised to bring the thunder back. He was true to his word.
The search for the new manager now begins. It is the Celtic way to automatically divert to old heroes in moments like this. Henrik Larsson has been installed as favourite. He has no real managerial pedigree, but then neither did Lennon. If Lawwell wants to appeal to the hearts of the faithful he will go with the Swede, but that's what he did when appointing Mowbray - the return of the hero - and it all went horribly wrong.
There are two lists in all this. The realistic one, with Larsson and Steve Clarke and others, and the wishful one, featuring Malky Mackay and David Moyes. There is an ever-lengthening cast of characters but very few who are attainable and who tick the boxes.
Lennon's departure marks the end of a tumultuous era. Whatever comes next in his managerial career, it'll do well to match the terrible beauty that was his life in Glasgow.