Cardiff City: Ex-Wales captain Craig Bellamy retires
Last updated on .From the section Football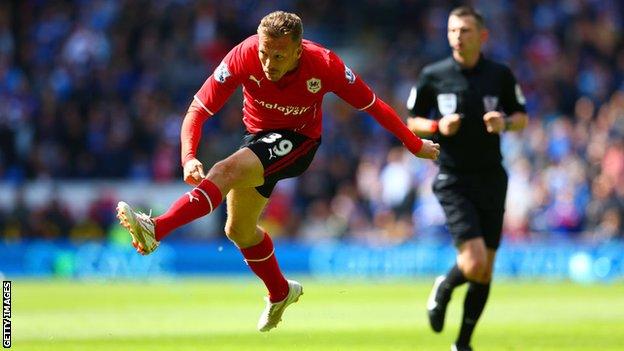 Cardiff City forward Craig Bellamy has announced his retirement as a player, saying that his body "couldn't take it any more".
Bellamy won 78 caps for his country before retiring from international football in October 2013.
The Cardiff-born forward told Wales Online: "I've had to listen to my body."
Bellamy played for seven clubs in the Premier League including Liverpool, Manchester City and Newcastle United.
He says he will now prepare to move into management and managing Wales is one of his ambitions.
In an interview given to Wales Online, Bellamy says he has been thinking about retiring for quite some time.
"I guess over the years I've become accustomed to the pain from various injuries," said Bellamy. "But for the last three to four years I've been on anti-inflammatories every day.
"I'm not sure my body will think that's a wise thing in due course, but it kept me playing for that period. However, the time has come to stand aside and say enough. My body can't take anymore."
Bellamy's first season in the Premier League at Coventry City in 2000 ended in relegation, as did his final term in the top-flight with his hometown club Cardiff.
City finished bottom, but despite the disappointment of seeing his beloved Bluebirds relegated, Bellamy says he retires with satisfaction.
"When Cardiff got promoted, it was the sense of achievement with my hometown club that meant most to me, rather than being able to play another season in the Premier League," he said.
"I had performed at that level for 12 years anyway, the goal of getting Cardiff up there meant more to me than actually playing there again myself."
He said Malky Mackay, who was manager of the Bluebirds at the time, had talked him around for "one last challenge" but added he wasn't sure he "could offer too much".
Bellamy says he has turned down offers from clubs in England and the United States, but is now planning on pursuing a coaching career.
"I just need to do the pro-licence which will prepare me properly for management," he said.
Known for his fiery temper earlier in his career, Bellamy was advised by Tony Pulis in October to sort his "temperament out" to become a manager.
Bellamy says he calmed down a lot towards the end of his playing days.
"I've been an angry young man at times," said Bellamy. "I think that anger I've displayed has been channelled into making me a better player. It gave me determination to get through those many injury problems.
"I was always far more at ease with myself as a player during the last couple of years with Cardiff.
"If truth be known, I got little enjoyment for large parts of my career. In hindsight, I needed to reflect more, be proud of what I did.
"Instead, I set myself unrealistic targets at times. But in the last couple of years I've been more proud, able to step back, enjoy my accomplishments. Why? Because my mind was in a good place."