Craig Bellamy can succeed as manager, says Mark Bowen
Last updated on .From the section Football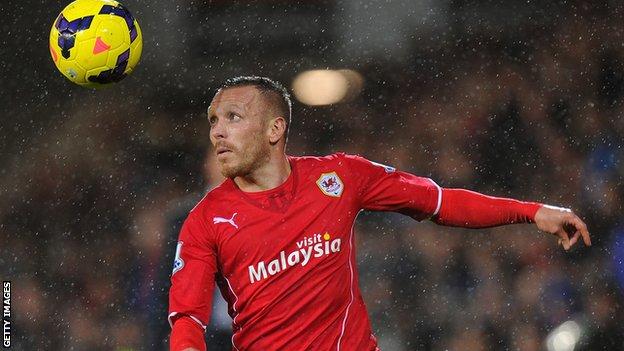 Craig Bellamy has the attributes to forge a successful career in management, according to ex-Wales assistant Mark Bowen.
The 34-year-old former international forward says he will now prepare to move into management and managing Wales is one of his ambitions.
"I'm totally convinced he will be a success, whatever he does," Bowen said.
Bellamy's final game of a 17-year senior career came in already relegated Cardiff's 2-1 Premier League defeat by Chelsea on the final day of the season.
He revealed he had turned down offers from clubs in England and the USA to prolong his playing career and is now planning on pursuing a coaching career.
Stoke City assistant Bowen worked with Bellamy during his time as a member of Mark Hughes' coaching team with Wales, Blackburn Rovers and Manchester City.
The former Wales left-back believes Bellamy is confident he can succeed and will plan meticulously and methodically before taking his first steps in coaching.
"He wants to go into coaching and management and I'm sure he'll make a success of that," Bowen said.
"He'll go over and above what other people would do. He would want to tick all the boxes to give himself the best chance he can.
"I spoke to him when I went down to Cardiff with Stoke towards the end of the season and the first thing he said to me was 'I think I'm ready'.
"Almost a little bit tongue in cheek, I said: 'You might think you're ready, but wait until you step this side you'll quickly find out you've got a lot to learn.'
"I think he told us he's in the process of doing his pro-licence. He wants to do that first so that gives him the ammunition, if you like, to pursue the next part of his career."
Bellamy, who played for Coventry City, Newcastle United, Blackburn Rovers, Celtic, West Ham, Manchester City and two spells with Liverpool and Cardiff, started his career at Norwich City.
Bowen was a senior Norwich player when Bellamy was an apprentice there and remembers an ambitious and determined youngster.
"It's a simple thing to say, but he was a proper football person," Bowen added.
"It wasn't just about coming in and playing football. He went home and studied the game and he wanted to train to the best of his ability.
"He wanted to do things on the training ground that he thought could make him better and try to improve himself and try to learn about the game.
"He loved the game so much. He's always had that edge to him."