Scotland: George Burley still bemused by players who quit

By Richard Wilson
BBC Scotland
Last updated on .From the section Football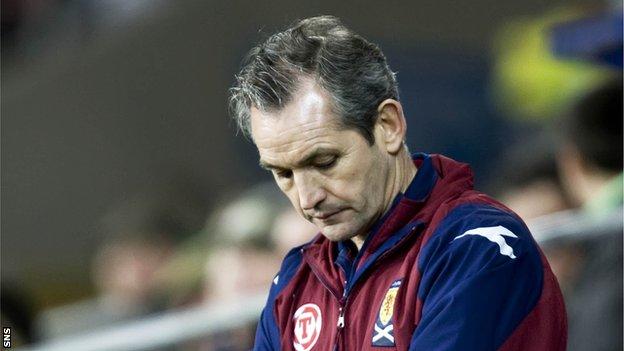 George Burley still cannot understand why Lee McCulloch and Kris Boyd retired from international football while he was Scotland manager.
Burley admits to having made mistakes during his 22-month reign in charge of the national team.
He also reflects that he might not have been cut out for international management.
But he believes that the attitude of certain players let him and their country down.
Burley's time in charge of Scotland included a number of controversies, including the episode at Cameron House Hotel that became known as Boozegate and McCulloch and Boyd both withdrawing from international duty.
The former Ipswich Town, Hearts and Southampton manager failed to lead the country to qualification for the 2010 World Cup and was sacked in November 2009, but certain incidents continue to define his tenure.
McCulloch retired from international duty in September 2008, having never played a competitive game under Burley.
Boyd quit after not being brought on as a substitute during a 0-0 draw with Norway at Hampden in October 2008. Chris Iwelumo came off the bench instead and infamously missed a straightforward chance from close range that would have secured a vital win.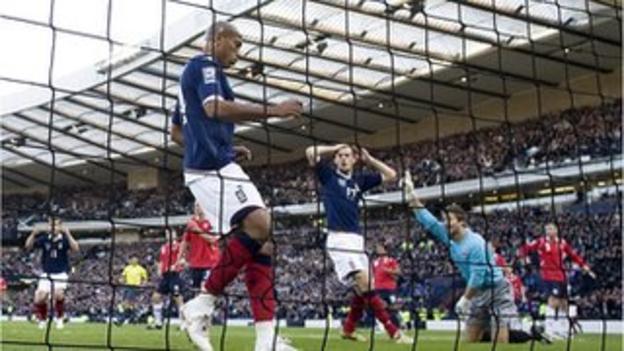 Both McCulloch and Boyd were thought to have been unhappy with Burley's management methods, although McCulloch insisted it was due to personal reasons.
"The Lee McCulloch incident amazes me," Burley told BBC Radio Scotland for its new "Managing Scotland" series, which starts on Saturday 23 May.
"He went to a squad gathering, we didn't have a game. We trained once because of the weather. He never played under me and then there were stories that he didn't want to play for me.
"I hardly had any conversations with him. I still can't understand it. He might have heard something second hand from somebody else, I don't know. That was a little bit of a sign of things to come.
"It's staggering for a Scotsman who says he's very passionate to play for his country to turn his back like that, with no fall-out and nothing to do really with what I've done."
Burley is equally confused by Boyd's actions.
"Kris wasn't playing regularly for Rangers, so I put Chris on because I thought he deserved it," he said. "He didn't score, so after the game we move on.
"I get a phone call from a press man saying Kris Boyd doesn't want to play for Scotland again, or doesn't want to play for me. I tried to speak to Kris, he didn't want to talk. He made the decision because I didn't bring him on as a sub, he turns his back on Scotland.
"Maybe I should have been stronger, because I can see the body language wasn't right. Maybe I should have said, 'Kris, if you're not going to be right, don't bother coming'. I made a mistake.
"But the way I work, I tend to let people go and play, encourage them and give them more leeway. Maybe as an international manager I should have been tougher. That was a failing in me.
"Maybe I wasn't cut out to be an international manager, because I had a lot of success managing teams."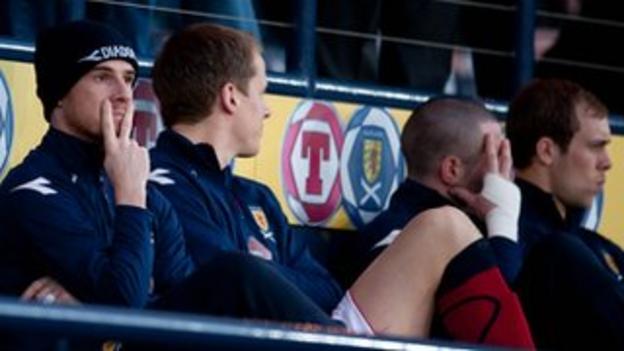 Burley also defended his decision to discipline Allan McGregor and Barry Ferguson for drinking at Cameron House Hotel following Scotland's return from a defeat in the Netherlands and ahead of a critical match against Iceland at Hampden but not send the pair home.
The drinking episode, which involved a number of players, was then revealed by the media and Ferguson and McGregor subsequently made V-signs to photographers as they sat on the bench for the game against Iceland.
"It was one of these scenarios when you're coming back late, your fitness coach has told you that, after games, they need to have some food," Burley said.
"I didn't mention [going for beers] - they went for some food. Then we get up in the morning, think nothing's happened, you're going in for breakfast and then all of a sudden, bang.
"We spoke about it and winning the next game against Iceland, for Scotland that was the most important thing.
"Do you send everybody who was involved home? It had been done, they were out of order, I felt we had to look at the game ahead, or else we're not going to get to the World Cup and we still had a chance.
"When it leaked, we had to deal with it. You speak to the players, they're out of order, they did wrong, [but] they haven't committed a murder. We told them they were out of order. There's no excuse, they hold up their hands that they're wrong and so you move on.
"They're not the first footballers, it happened in squads before, so I'm not saying it's right. I backed them to stay and then they let themselves down. It didn't do anybody any favours and I'm the coach of the team. They were being disrespectful to myself."
Managing Scotland, Saturday 23 May, 15:00 BST, BBC Radio Scotland.