Champions League final: Gareth Bale emerges into Lisbon spotlight

By Phil McNulty
Chief football writer in Lisbon
Last updated on .From the section Football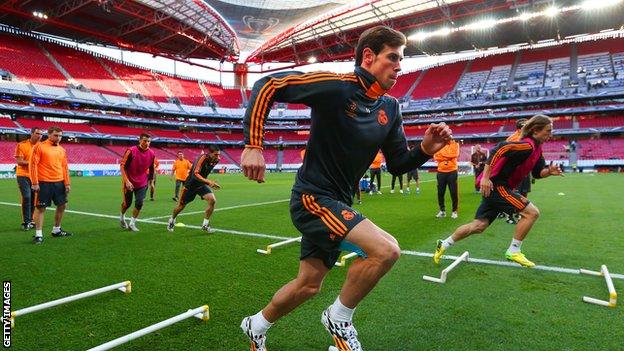 As Gareth Bale exchanged passes with Cristiano Ronaldo in the late evening sunshine inside Lisbon's iconic Estadio da Luz, he carried the relaxed air of a player who knew his moment had arrived.
Ronaldo's status as the Galacticos' Galactico is unchallenged at Real Madrid - as it is here in Portugal, where victory in Saturday's Champions League final against Atletico Madrid is seen as destiny by many of his countrymen.
Real are expected to have many more supporters in Lisbon than the 17,000 who have tickets, and every one will have been relieved to hear coach Carlo Ancelotti's optimistic bulletin on the hamstring injury that has troubled Ronaldo in recent weeks.
The delight could be heard in the hundreds of supporters who thronged outside simply to catch a glimpse of the Portuguese in training, chanting his name loudly throughout the session.
Ronaldo will be the local hero for everyone not of an Atletico persuasion on Saturday, but Bale's growing influence throughout the season - illustrated by his brilliant solo goal to win the Copa del Rey against Barcelona - could make him just as important in Ancelotti's plans. Certainly, he played a key role in the 4-0 semi-final second-leg thrashing of Bayern Munich in the Allianz Arena.
Bale may yet grace a World Cup with Wales - his efforts in tandem with Aaron Ramsey perhaps able to inspire their compatriots - but, for now, nights like this will be the best the game has to offer the 24-year-old, who has made light of the £86m fee Real handed to Tottenham last summer.
He was the expensive addition that Real sought in an attempt to end a run of three losing semi-finals, and finally claim the historic landmark that has driven them toward Lisbon and the first final meeting between two teams from the same city.
Ancelotti admits this season, his first at the Bernabeu, has been about Real finally fulfilling the dream of "La Decima" - the 10th triumph in this tournament's various guises, and their first since the 2002 win over Bayer Leverkusen at Hampden Park best remembered for Zinedine Zidane's brilliant volley.
Bale's humility, his acceptance of his place in the ranks compared to Ronaldo, is an example of the maturity that has allowed him to settle so well on and off the field in Spain. Now the occasion that will have been in his sights when he left White Hart Lane will play out here in Portugal.
Real still carry the weight of favourites, despite arch-rivals Atletico winning La Liga for the first time in 18 years with a draw at Barcelona last weekend. And, as the two sides conducted their final media duties, the contrasts between the them and their coaches was often stark.
In Ancelotti, Real possess one of the game's most decorated and experienced managers, twice a winner of the trophy as a player and now attempting to become only the second man - alongside Liverpool's Bob Paisley - to win the tournament three times as the man in charge.
The Italian was as laconic as ever, with plenty of relaxed smiles and the trademark raised eyebrow. Real defender Sergio Ramos described him as "a friend" to his players - words he was unlikely to attach to the previous incumbent at the Bernabeu, Jose Mourinho.
Ancelotti is aware of the unique pressures at Real, of how "La Decima" has almost become the club's mission statement. He is a popular man with Real now - but this is a club where popularity, and a coach's future, can be shaped by 90 minutes.
Across the technical area, dressed in his usual black, will be Diego Simeone. The 44-year-old Argentine is a hungry young fighter who has shaped this Atletico team in his own image.
It was with a little embarrassment that midfielder Tiago paid tribute to the coach who has galvanised Atletico and lifted them out of Real's shadow. If winning La Liga was greeted with elation, overcoming the club that kept them downtrodden for so long, in European football's biggest club game, will elevate Simeone and his players to legendary status.
With a smiling Simeone at his side, Tiago said: "It is difficult to speak with him sitting here but I think for us he is like a god. He arrived at the club and changed everything. What he tells us comes true and we follow him.

"If he asks us to go and jump from the bridge, we jump. He knows a lot about football and we follow him. We are very proud to have him as our coach."
As Lisbon is famous for two magnificent bridges that span the Tagus - the Vasco da Gama and the 25 de Abril - Tiago picked the right city to deliver the image.
And this group of players have proved by winning La Liga and fashioning victories such as that over Chelsea in the semi-final, that they are prepared to do anything to meet the fierce demands of the coach who leads then.
Simeone has injury problems of his own, with striker Diego Costa and midfielder Arda Turan both lacking fitness, but his belief in his players is such that he is unmoved by such concerns.
"They are just names," he said. "Both are important players but there are other players who know they will be playing if Diego or Arda don't, so we are working in preparation for whatever happens."
Costa took part in training and will be monitored, the striker's intensity and ability a symbol of Simeone's superb rebuilding of a proud old club.
This is the challenge Bale and his team-mates will face.
Real would love to claim "La Decima" at their neighbours' expense in a show of what they regard as their superiority - and that is one of many reasons why Atletico want to take this opportunity to show they are Madrid's finest.