Rangers fans protest against board and shareholders at Ibrox

By Richard Wilson
BBC Scotland
Last updated on .From the section Football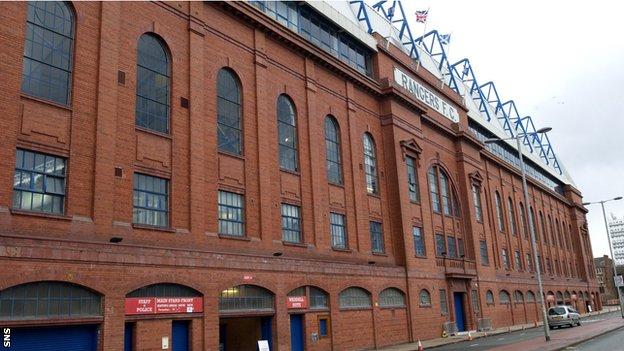 Around 500 Rangers fans gathered at Ibrox on Saturday to protest against the club's board and shareholders.
The supporters carried postcards that articulated why they will not be renewing or buying season tickets under the current regime.
The protest was organised by the Sons of Struth group, which is part of the Union of Fans.
The latter is a coalition of fan groups that has urged supporters to pay their renewal money into the Ibrox 1972 fund.
That scheme is backed by former Rangers captain Richard Gough and former director Dave King, with the intention being to only hand the money over to the club in return for security over Ibrox Stadium and Murray Park.
The directors insist that this will not be granted, however. The deadline for season ticket renewals has passed, although the public sale will not begin until late June.
In the meantime, fans can renew their season tickets but not be guaranteed to retain their seat. The club have not released any details about the number of renewals that have been received.
Craig Houston, one of the fans behind the Sons of Struth, said: "We formed an orderly queue at the ticket office to show how many fans are against renewing season tickets. It shows the strength of feeling amongst the fans.
"There was nowhere to leave the postcards, so we then walked round to Argyle House and deposited them there.
"Somebody from the club did come out and ask if there was going to be any bother, but there was never going to be. It was a peaceful protest.
"The Union of Fans have obviously been urging fans to pay their money into the season-ticket fund, but this was for fans who are not part of the UoF or Sons of Struth, or follow any particular organisation, but wanted to express their feelings. It was a chance to tell the board exactly why they're not buying season tickets.
"We are always open to dialogue. There was a meeting between UoF and some directors, but there was no dialogue following that. Instead, they chose to make a public statement, which was disappointing. Ears are open on this side, though."