Ronnie Moore: 'Tranmere took easy way out by sacking me'
Last updated on .From the section Football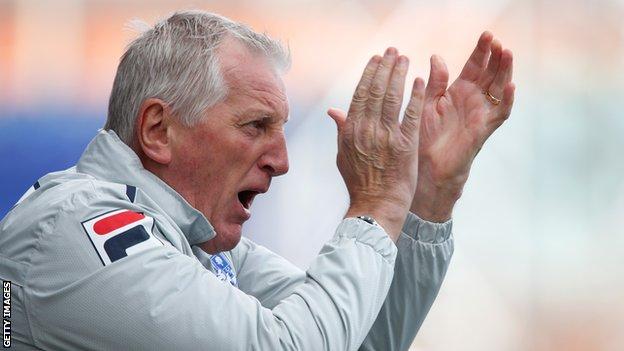 Former manager Ronnie Moore believes Tranmere took "the easy way out" by firing him for breaking the Football Association's betting rules.
Moore, who was sacked in April, was given a one-month suspended ban and fined £2,000 by the FA after placing close to 100 bets over three years.
The 61-year-old insists the average bet was £12.
"Had we been top of the league, there was no way in this earth it would have happened," he said of his sacking.
Moore was suspended by Tranmere and replaced by assistant John McMahon on 17 February after the FA began an investigation.
He was dismissed the following month after it was confirmed by the FA that he had admitted a misconduct charge regarding multiple breaches of rules relating to betting on games. The Prenton Park club went on to be relegated into League Two.
"I wasn't even asked about it," he added. "Surely the first thing you'd do if your manager was involved was to get him in a room and have a one-to-one with him, but just to be suspended was frustrating."
The online account was used by Moore and three family members and the bet that landed him in trouble was a win-double on Moore's club Tranmere and Manchester United that won his sister-in-law's son less than £4.
"The average bet was £12. It's ridiculous. And the £1,000 or so I put on, only £250 was mine," he said. "I genuinely thought that I would get a warning, I never imagined they would take it any further. I told them it was an honest mistake, it has been family bets over a three-year period."
Only one bet made from the account involved a Tranmere match. "It was a £1 win-double that my sister-in-law placed," Moore explained.
She text me saying that her son really fancied Tranmere to win away at Colchester and Manchester United to beat QPR, so she asked me to put the bet on for her because I had the account.
"It was a genuine, honest mistake, do people honestly think that I would put a £1 bet on my own team? I could understand if I had £15,000 on Tranmere to get beat, then I should get hammered into the ground, but it seems extreme to me that a £1 bet should cost you your job."
Moore, whose accounted posted a loss over the period, has been told by the FA that his integrity has not been called into question and believes the governing body accept that his intentions were honest.
The former Rotherham and Oldham boss said: "They gave me the lowest one [suspension] possible because they have seen the nature of the bets.
"Because the account was in my name, I was guilty. But in my eyes I was not guilty because I didn't know I was doing anything wrong.
"But as a manager of a football club I should have known the rules. I feel embarrassed that I didn't. I wouldn't have done it if I'd have known.
"I want to get back working. I have had 16 or 17 years as a manager, done nearly 900 games, I want to get to the 1000-mark because that won't happen again in modern-day football."