World Cup 2014: Andrea Pirlo on England, penalties and Balotelli
By Patrick Nathanson
BBC Sport
Last updated on .From the section 2014 Fifa World Cup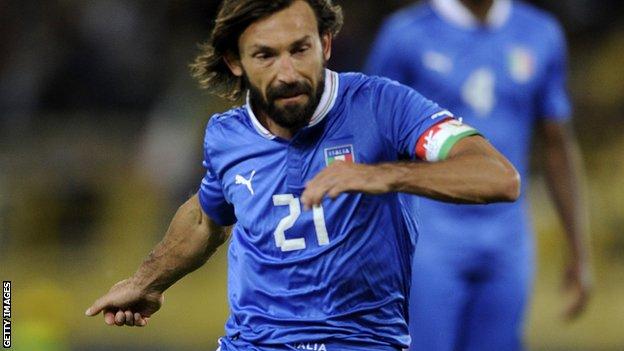 Go to our new World Cup features and video index for more in-depth content and analysis.
Italy and Juventus veteran Andrea Pirlo has been known as one of the world's top midfielders for the past decade.
The 35-year-old, who has won a World Cup, two Champions Leagues and five Serie A titles, spoke to BBC Radio 5 live about this summer's tournament in Brazil, where England are among the teams that the deep-lying playmaker will face in Group D.
What are the main challenges from your perspective when it comes to playing a team like England?
AP: "It has always been a difficult game, playing against England. But it's one you look forward to, especially when it's during a World Cup or European Championship. It's the first game of the group stages, so it will be a tough and important one."
Italy beat England in the quarter-finals of Euro 2012, but are you expecting a very different proposition this time?
AP: "I think so because new players have come in over the past two years. We will expect something different from England.
"It's all to play for and the best team doesn't always go through. It is a very tight, evenly balanced group. Whoever goes through will have done better than the others."
What do you think of Steven Gerrard as an opponent?
AP: "He is a great player, he's been playing at a very high level now for many years. He is an important pillar of England's team and I'm sure he will have a good World Cup."
What about the young England players? Who do you think of the likes of Ross Barkley and Adam Lallana?
AP: "I saw Ross Barkley play in the summer when we played Everton during a friendly in America. He made a big impression. I don't know too much about Adam Lallana, but people have told me good things about him."
Why do think it is that English football has not been able to produce a player liker Andrea Pirlo?
AP: "I don't know why this hasn't happened. England's style of play is different and perhaps the training and preparation for a role like mine is done in a different way, with players who play a different kind of football.
"But England have some great players, so I don't think the absence of a 'Pirlo' type of player has been a big problem for them."
What about Italy? Who are the threats and who could surprise us?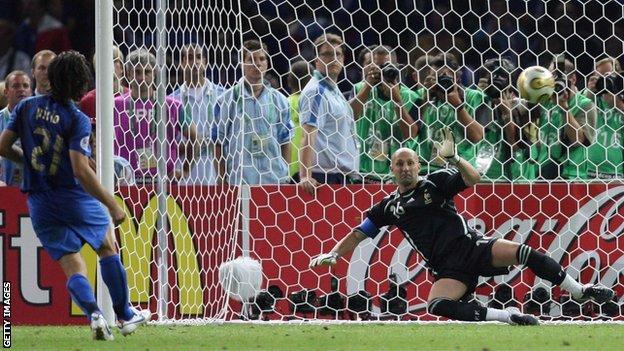 AP: "Let's hope that someone emerges, it doesn't matter who. As long as there's someone who scores a load of goals to help Italy win."
Could Mario Balotelli be that man? He is fondly remembered in England for his time at Manchester City.
AP: "He is a good kid. He needs to show just what he is worth on the pitch. But the World Cup is a great opportunity for him to show his true quality."
Let us talk for a moment about penalties, which have haunted England over the past decade. You took a penalty in the shootout against France at the 2006 World Cup final.
Italy won 5-3 after the game had ended 1-1 after extra time, but you took the first penalty. What were you thinking as you walked towards Fabien Barthez?
AP: "I was just focused on how to take the penalty and make sure it went in. After I scored, I experienced a real sense of liberation. A weight had been lifted from me, because to take a penalty in a World Cup final is a pretty heavy feeling."
It is difficult for us watching on the outside to relate to that immense sense of pressure. You have said previously that you don't really suffer from nerves. Is it just something that is very natural to you?
AP: "Yes. Luckily, it is something I have been able to do - to detach myself and maintain a calmness."
What are the differences between the Andrea Pirlo of 2006 and the Andrea Pirlo of 2014, in terms of mentality?
AP: "My mentality is still exactly the same - it is that wanting to win and push myself to the very end. A few years have gone by now but the will to do well remains the same."
In your autobiography I Think Therefore I Play, you talk about the 1990 World Cup in Italy - what are your memories of that tournament?
AP: "I remember watching it at home with my parents and brother. We were very nervous watching the Italy games - because Italy was the host country no one wanted to miss a game."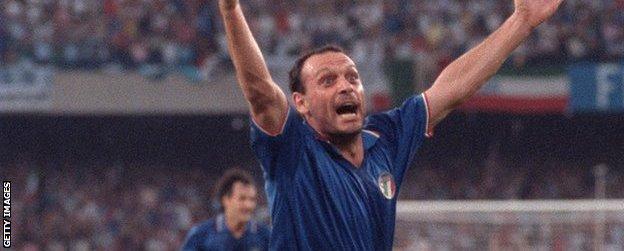 Salvatore Schillaci scored six goals in seven games at that tournament? What do you remember about his famous finishes?
AP: "I remember the games well - I was 10 or 11 and it was a great summer. We believed right up until the end that Italy could win the tournament. Unfortunately it just didn't happen and we were knocked out on penalties in the semi-final by Argentina."
How would you describe the feeling of playing at a World Cup?
AP: "For a footballer, I think that to play at a World Cup is the highest achievement. When you are a kid and dreaming of becoming a footballer, to play at the World Cup is the most beautiful thing that you can hope to happen.
"I have been lucky enough to have done this and I hope it will be something I can experience again."