Man United: Danny Welbeck rejects Moyes's training claims
Last updated on .From the section Football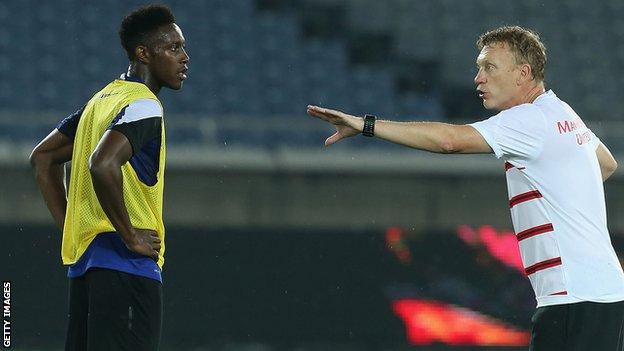 Manchester United forward Danny Welbeck says he has always been professional as he responded to former boss David Moyes's claims he did not train hard enough.
"I was pretty surprised at that to be honest," said England's Welbeck, 23.
"Before he made that statement I was doing extra training. Maybe he just didn't see it."
Moyes was sacked just 10 months into a six-year contract after a disappointing season and will be replaced by Netherlands manager Louis van Gaal after the World Cup.
He said of Welbeck in December: "We had a word with Welbeck about a month ago and we said that he needs to be the last off the training field.
"Wayne Rooney's out there practising his finishing each day. I said: 'Danny, you need to be out there every day finishing, even if it's 15 minutes at the end'."
Welbeck, who scored 11 goals in 24 starts last season, is part of Roy Hodgson's 23-man England squad for the World Cup in Brazil.
"I've grown up at Manchester United and been professional all through my career and I always do extra work," he said.
"It's born and bred in me to do extra work after training and maybe he wasn't seeing that extra stuff. I was doing extras in the gym and on the pitch."
United finished seventh in the Premier League, after a title defence that featured one-sided defeats by Manchester City, Liverpool and Chelsea.
They have failed to qualify for the Champions League for the first time since 1995-96 and are out of European football entirely for the first time in 25 years.
And Welbeck admits it was a "frustrating" campaign for him personally as well, being played "out of position" on the left.
BBC Sport reported in April that Welbeck was considering quitting United and when asked about his future he declined to comment.
Wayne Rooney, Robin van Persie, Javier Hernandez and £37.1m January signing Juan Mata are all competing with Welbeck for a starting position up front for United.
"I'd like to play central," he said. "I've been playing on the left for a while and it's got to the time where I want to stake a place up front.
"My goals per game ratio is better for England. I'm much more free up front as there are three in midfield and three up front. Maybe I'm kind of let off the leash a bit more for England than United.
"I heard the news [about Van Gaal's appointment] and I am happy. Looking at his CV tells you he has managed at some big clubs.
"I want to make sure I show my quality."