Gareth Bale can get even better - Carlo Ancelotti
Last updated on .From the section European Football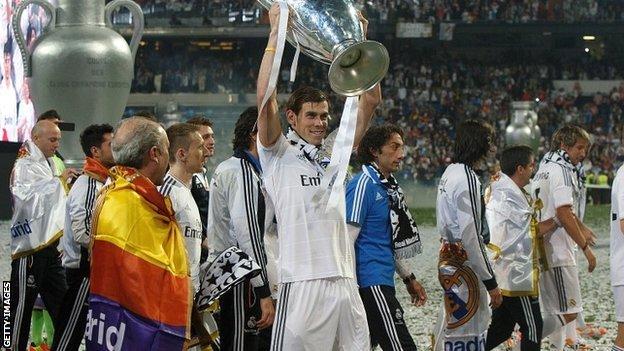 Gareth Bale will improve further next season after a superb debut campaign, says Real Madrid boss Carlo Ancelotti.
The Welshman joined Real from Tottenham for a record £85.3m last summer.
"All season Gareth has been good and he will be better next year," said Ancelotti before the team paraded their success in front of thousands of fans.
The club celebrated a record 10th European Cup on an open-top bus tour through the Spanish capital on Sunday before about 50,000 supporters descended on the Santiago Bernabeu Stadium.
The players emerged onto the pitch during a spectacular laser show which was followed up by a huge party where players sang and danced in front of their fans.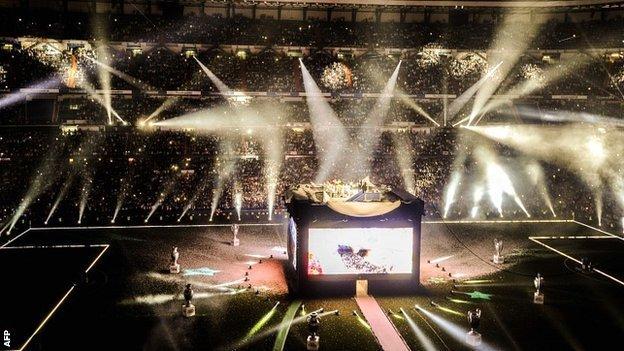 The triumph ended a 12-year wait for the title, last achieved when Zinedine Zidane, now Ancelotti's assistant, scored a stunning volley to help beat Bayer Leverkusen at Hampden Park.
During Sunday's celebrations, Madrid skipper Iker Casillas told fans: "Thanks for waiting," before Cristiano Ronaldo took the microphone to lead a chant of "Hala Madrid," a traditional rallying cry for the club.
Ronaldo recorded the celebrations on his mobile phone as Bale quietly soaked in the atmosphere with his young daughter, who he took onto the pitch.
Several players celebrated the triumph by showing off new looks. Croatian midfielder Luka Modric cut his trademark locks while dark-haired Dani Carvajal bleached his beard blond.
Ancelotti added: "Happiness is giving happiness to those who always follow us. The fans are very happy and that makes us happy."
Bale said winning the Champions League was a "dream come true" after his extra-time header put Real in front for the first time in the game before Marcelo and Cristiano Ronaldo sealed a resurgent victory.
His 22nd goal of the season came after he missed three chances in normal time but Ancelotti praised the forward's attitude.
"It was very important because he had tried before, but he was unlucky in front of goal," the Italian coach said.
"But he turned up when he was needed.
"We're very proud of having won this for all Madrid fans."
Cardiff-born Bale is now set to appear in a homecoming on 12 August, as the European Super Cup - held between Real and Europa League winners Sevilla - will take place at Cardiff City Stadium.
The former Spurs and Southampton player added: "When you're a little boy you dream of lifting the Champions League, and to lift the 10th one for Real Madrid is special. It's one that will go down in history.
"We always were praying that we'd get a goal, and it was obviously great that we did. We left it late, but it made it that extra bit more special."
Ancelotti added: "I have had a fantastic group of players who have always been professional and they showed that in this match too. Not only those who were delighted to be playing, but also those who were not playing."