Zico's World Cup story: World class but denied on biggest stage
Last updated on .From the section 2014 Fifa World Cup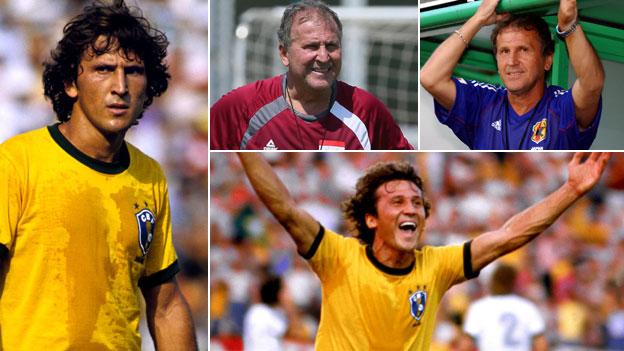 Geoff Hurst was a fine centre-forward, a player who in his own typically astute analysis was "comfortable in world-class company".
The history of football has produced many better strikers but the honour of being the only man to score a hat-trick in a World Cup final belongs to Hurst.
The World Cup is kind to some, and cruel to others. If Hurst can be placed in the former category, then the latter would have to include Zico, Brazil's outstanding player in those years of frustration between 1970 and 1994 when the game's biggest trophy eluded them.
Perhaps not appreciated outside his native land is the extent to which Zico is a working-class hero, a skinny kid from Rio's poor suburbs who was on a mission.
"In my career I always tried to improve to become one of the great players, because I felt I had received a gift from God and I had to make good use of it, to become worthy of having received this talent," said the 61-year-old.
But his prodigious work ethic - first on the training field, last off it - was never quite enough to land the World Cup. Indeed, in his last chance at the trophy, in 1986, he may have proved too eager for his own good.
He had suffered a serious knee injury "and I asked the coach not to take me to Mexico, because I thought I wasn't going to be fit enough". He was talked out of it, and worked around the clock.
"I had to do lots of exercises. I couldn't train with my team-mates and I trained separately on a machine to build up my muscles."
He was only fit enough to make second-half substitute appearances but when he came on against France in the quarter-final his pass instantly split the opposition defence and led to a penalty to Brazil.
He stepped up to take it but says: "I wasn't in the same rhythm as the other players, which maybe contributed to the fact that I hit it differently from usual, and their keeper Joel Bats made the save.
"But if I hadn't taken it then it would have been Socrates. When the match went to a shootout, he missed, and I scored."
Brazil lost and Zico's last chance as a player at the World Cup had gone.
His first shot at the trophy had come eight years earlier, in Argentina. The "New Pele" was surrounded by intense hype - it was hard to live up to the expectations on a Buenos Aires pitch so poor it was coming away in clumps.
Harder still when he thought he had headed a last-gasp winner in the opening game against Sweden, only for it to be disallowed because Welsh referee Clive Thomas had bizarrely blown for full-time while the ball was in flight.
Perhaps the main problem, though, was one of ideas. "All of us Brazilians got carried away with the great football that Netherlands had presented in 1974, with the players carrying out lots of functions, and our coach Claudio Coutinho wanted, in a short space of time, Brazilians to play in the same way. It wasn't possible," he said.
"The players, anxious to copy the Dutch, ended up forgetting the technique, quality and improvisation which is Brazilian football."
There were no such problems four years later, in Spain 1982, when Zico and his generation gave their definitive statement as international footballers.
Shot down by Paolo Rossi's Italy in one of the greatest World Cup games, Brazil did not even reach the semi-finals. Even so, as Zico says, "everywhere I go people talk about that team. They know the line-up by heart".
Seldom if ever in the history of the game has the ball been treated better than it was by the midfield of Falcao, Toninho Cerezo, Socrates and Zico.
The team stands out as a glorious example of football's expressive possibilities, accumulating perhaps the most stunning series of goals any side has ever scored in the course of a single World Cup.
And there is a run of eight consecutive goals in which Zico either scored or was instrumental in the build-up.
An astute tactician - a quality which helped him in his role as Japan manager at the 2006 World Cup - Zico is aware that that Brazil team was not perfect. Eder played wide on the left, but there was nobody carrying out a similar role on the other flank, leaving right-back Leandro isolated.
"I think we got a little lopsided," he concludes. "Today, analysing it as coach, I think that if we had had time to train with our midfield quartet it would have been fine.
"We would have been able to adapt; but halfway through the World Cup I think our coach [Tele Santana] should have looked at myself, Falcao, Cerezo and Socrates to take one of us out, bringing in Paulo Isidoro to do a job on the right."
Even so, he is acutely aware of having been part of something magnificent, knowledge that has always helped dull the pain of defeat.
"Brazil played well, everyone loved it, but we didn't win," he says. "I've always seen football as a game. You lose or win. I've never looked back on it with desperation. We did what we could.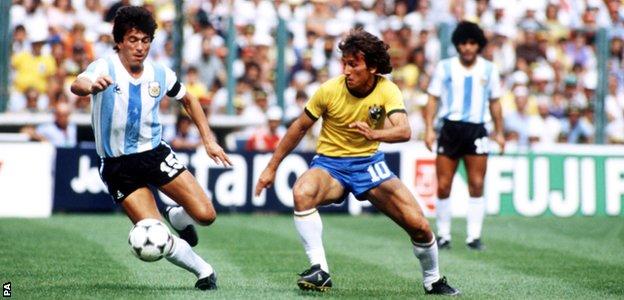 "I did everything possible. I prepared myself as well as I could to play well and to represent my country. We didn't win - so be it."
But he does recognise that the defeat of the 1982 side might have been bad for the game: "Perhaps it left the lesson that the important thing is to win no matter how.
"If you have to kill a move, stop the game and make fouls to win, it shall be done."
In common with many of his old colleagues, he sees plenty to celebrate in the recent rise of the Spain/Barcelona school. Spain are the current world and European champions, Barcelona have won numerous domestic and European trophies, all with a distinct possession-based brand of play known as tiki-taka.
"I do recognise them as our heirs," he says.
"They use an element that Brazil used to use, and that was ball possession, moving the ball from one side to the other, they tire their rivals out, and this is something we did.
"But," an observation repeated by almost all his 1982 team-mates, "we got to the opposing goal faster than Spain or Barcelona".
He was happy to celebrate Brazil's 3-0 win over Spain in the final of the Confederations Cup in 2013, and sees it as a blueprint for home success again this year.
"I hope to see the same approach from Brazil as in the Confederations Cup; trying to impose its game, trying to impose its rhythm, trying to impose the fact that they are playing at home; because that is the only way they will have the fans with them," he says.
"We have great players; but if you start off squeezing your opponent, going for the goal and marking well then the fans are with you, and this makes a difference."
We shall soon find out if it will be enough for the World Cup to be kind to Brazil's class of 2014.