Roberto Martinez open to return to 'special' Swansea City
Last updated on .From the section Football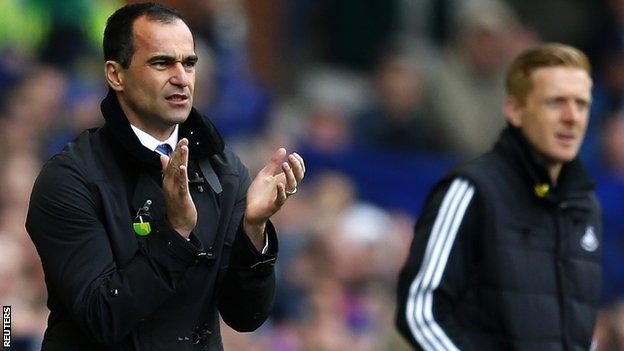 Roberto Martinez has refused to rule out returning to Swansea City before the end of his managerial career.
Everton manager Martinez, 40, took his first step into management with Swansea in 2007, leading them to the Championship as League One champions a year later.
He said a strong attachment remains between himself and the club.
"Swansea City will always be a special memory and a special football club to always keep an eye on," Martinez said.
Martinez's reputation has risen considerably by leading Everton to a fifth place league finish in his first season in charge at Goodison Park, accumulating the highest number of points for the club in a Premier League season.
That achievement has seen him linked with the vacant managerial position at Tottenham Hotspur.
The Spaniard cut his managerial teeth at Swansea, having spent three years there as a player and was part of the team that escaped relegation to the Football Conference by beating Hull City on the final day of the 2002-03 season.
Martinez said he continues to look on with pride as Swansea, who have secured a fourth successive season in the Premier League, continue to progress and succeed.
"I was very fortunate to be a part of it as a player and then as a captain," he said.
"We were probably in the most significant period when we had one game to stay in the professional game.
"It was a real key moment, a landmark in the history of the football club. And then as a manager and being able to work with [chairman] Huw Jenkins and the board - they are the ones that kept that philosophy and a real clear way of playing the game, which has always been admired around the football world.
"The achievements have been terrific. As a football club it is very close to my heart and that will never change."
Martinez is credited for developing the passing philosophy to which the club continues to adhere. Each manager appointed since Martinez left in 2009 to manage Wigan Athletic has been chosen specifically to suit that style of play.
Garry Monk, a former team-mate of Martinez, is the latest to be given that task after Michael Laudrup's tenure ended with an acrimonious split in February, less than 12 months since leading the Swans to a League Cup triumph.
"Garry Monk is Swansea City through and through," added Martinez. "He knows the DNA of the club, he knows the philosophy, he's a perfect fit for the football club.
"It's the right time for him to hang the boots up, which is always a very difficult moment. It's the second best job in the world when you are a Swansea player and have been a captain - you know what the fans want, you know what the football club represents - the next step is to be the manager.
"I think he deserves the opportunity after the work he has done since he took over, the way he has handled ever single situation and I'm sure he's going to be looking forward now to have the stability, the opportunity to plan a bit further.
Martinez added: "When I took over, there were big question marks about his future, if he could play again after his long-term injury. But I knew on the day you could bank on his character and I wanted him to sign a new contract and he became my captain.
"I feel the same way now - he's someone you can rely on and put your hopes on because he will find a solution to be successful."