World Cup 2014: Adam Lallana not affected by speculation
Last updated on .From the section 2014 Fifa World Cup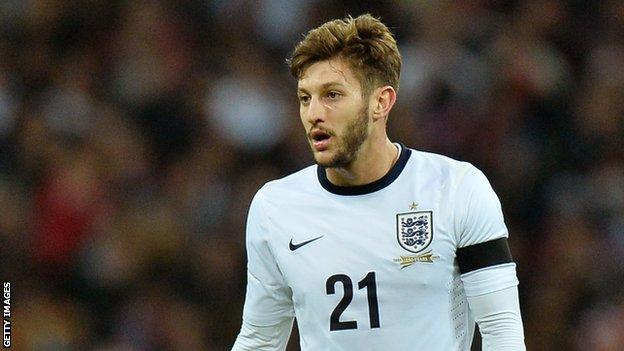 Southampton midfielder Adam Lallana has said he will not be distracted by speculation over his future while on England duty.
"Whether my future gets sorted before or after the World Cup makes no difference to me," he said.
"I am just fully focused on doing well for England and performing as well as I can."
Lallana, who joined Southampton in 2000, scored 10 goals in 42 outings this season as he helped his club to an eighth in the Premier League in their second top-flight season following two back-to-back promotions.
"Four years ago, I was playing in League One and I was watching the World Cup with my mates," he said.
"If someone had said to me then that I would be participating in the next one, obviously I would have not believed them one bit.
"That just proves what can happen when you work hard and get your head down. I'm delighted and I still can't quite believe it."
Lallana will be hoping to push his claims for a starting place when England face Peru at Wembley on Friday before flying out to Miami, where they will play their final World Cup warm-up matches against Ecuador on 4 June and Honduras three days later.
Manager Roy Hodgson will also be using those games to analyse how strikers Wayne Rooney and Daniel Sturridge work as a partnership.
Liverpool striker Sturridge, 24, scored 25 goals for Liverpool last season, in a prolific partnership with Luis Suarez.
"We've seen a lot of the Sturridge-Suarez partnership but not a lot of Rooney-Sturridge," said Hodgson.
"They haven't had a lot of time to play together. Now's our chance."
Sturridge will be competing with Rickie Lambert, 32, of Southampton and the Manchester United pair of Danny Welbeck, 23, and Rooney for a starting berth up front in Brazil.
"From this week, we start to move away from a bigger focus on fitness and getting people in the right shape, to tactical preparation," added Hodgson. "That's when the partnerships will start to develop."
Sturridge and Rooney have only played together five times for England - a total of 336 minutes - but their partnership has resulted in four goals so far.
Both were on target in a 4-1 win over Montenegro at Wembley in October, while Rooney opened the scoring in the 2-0 win over Poland four days later which secured England's place in Brazil.
Sturridge then scored the only goal of the game in the 1-0 friendly win over Denmark in March.
"It won't just be Rooney-Sturridge, we will be working on Welbeck and Lambert as well," Hodgson added.
"It's too early to start making big bold statements and judgements on the Rooney-Sturridge partnership being X or Y because we haven't seen enough of it."
It remains to be seen how the strikers will be used in Brazil, with Hodgson previously favouring a three-man attack, with Rooney, Sturridge and Welbeck all starting.
Another partnership which will be under scrutiny is in central defence where Chelsea's Gary Cahill and Everton's Phil Jagielka appear to be the preferred option.
In the 10 games the pair have started together, England have not lost a game. Cahill says the partnership has got "stronger and better" over time.
"I remember playing with Phil the first time and people were talking about the fact that Rio Ferdinand has gone and John Terry has gone," he said.
"We had a run together last year and I thought that went well.
"More importantly, we have not conceded too many goals so that is pleasing and I hope that continues if we are paired together in Brazil."