Fleetwood promotions 'down to chairman's ambition'
Last updated on .From the section Football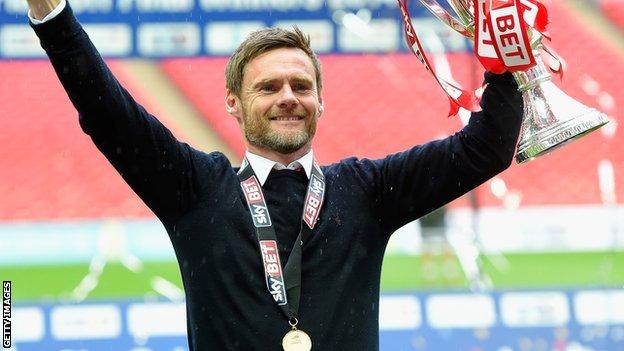 Fleetwood Town manager Graham Alexander says the club's rapid rise through the leagues is down to the ambition of chairman Andy Pilley.
They have now won promotion in six of the past 10 seasons.
"There have been tough times and tough questions asked but his support has always been there," said Alexander.
"Hopefully this is repaying the faith that's been shown.
"This club's success is down to the ambition of the chairman and always believing that we can smash any glass ceilings that are put above us.
"That's what the chairman spoke to me about on the first day that I came here; proving to people what you can achieve with a lot of hard work and a lot of people pulling in the same direction.
"This season has not been easy. We've had some tough times, but I believe we've deserved promotion. We finished fourth and four teams go up."
Alexander also enjoyed play-off success at Wembley as a player, helping Burnley to promotion to the Premier League in 2008-09, and says this success means just as much as that one.
"It's right up there because everyone works so hard for any success in football and there are a lot of people who worked hard this year," he added. "I don't believe it means anything more as a manager or a player. Everyone has played a part in getting the club to the next level."
Fleetwood will now be competing in English football's third tier for the first time and will face former Premier League clubs including Sheffield United and Coventry City.
"It will be tough, without a doubt, but we beat some League One clubs in the Johnstone's Paint Trophy this year, including Rotherham who have just gone up, so we know we can compete.
"Doing it over 46 games is going to be a tough task but this season was a tough task. You need breaks here and there.
"We're not making any promises or predictions but we're going up there to compete.
"Ten years ago the club was playing in front of 80 people, five divisions below the Football League, so if that's not proving people wrong along the way then nothing is.
"We've tried to plan for next season but without knowing what division we were going to be in, it's all on ice. We've got a lot of players in the squad who I feel can make that next step with us. I fully trust them and believe in them."