World Cup 2014: Food confiscated from England hotel
Last updated on .From the section 2014 Fifa World Cup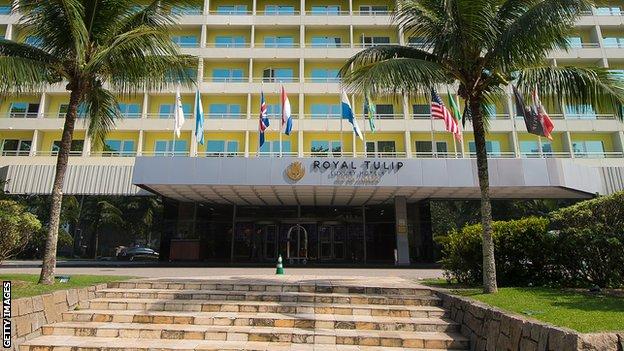 England's hotel for the World Cup in Brazil has had out-of-date food confiscated from it by Brazilian health and safety officials.
The Royal Tulip hotel in Rio de Janeiro had 2.6kg of salmon, parma ham and butter removed as it was deemed unfit for consumption.
Italy's Portobello hotel, which is just outside Rio, had more than 50kg of food taken away.
The Football Association said it had no concerns following the seizure.
An FA spokesman said: "The England chef has visited the Royal Tulip hotel several times and is happy with the cleanliness of the facilities. He will also closely supervise all the players' food intake."
The inspections were part of 13 venues visited by officials.
Restaurants, supermarkets, bakeries, shops and hotels were raided by officials, with eight notified of irregularities.
In total, 218kg of food unfit for consumption was discarded.
Officials at Italy's hotel discovered 25kg of seafood and margarine past the sell-by date, while another 24kg of meat, sauces, cheese and sugar had no visible sell-by date.
The Caesar Park hotel where the Netherlands squad will be based was found to have no irregularities.