Manchester United Milk Cup opponents to include Co Armagh
Last updated on .From the section Football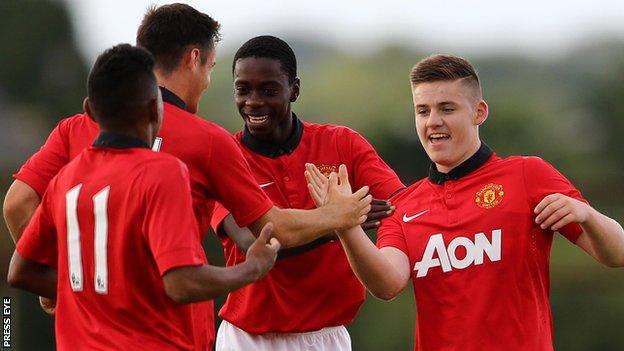 County Armagh are the lucky local team to land the plum draw of facing Premier holders Manchester United in this year's Milk Cup.
The Armagh boys will also be up against Dublin club Bohemians and Australia hopefuls Gold Coast Academy.
Last year's beaten Premier finalists County Tyrone's opponents will include Benfica and County Fermanagh.
Junior holders Everton will face Co Fermanagh, Middlesbrough and SC Corinthians in their opening group.
Probably the most intriguing junior group will see Liverpool and Rangers in opposition alongside and Sheffield United and Co Armagh.
The Premier entries include competition debutants, the Craig Bellamy Foundation, whose group opponents will include the County Down team.
The four hopefuls in the Elite tournament are China, Mexico, Canada along with Northern Ireland.
The international nature of the youth football tournament is emphasised by this year's list of contenders.
There will be a strong Mexican flavour with the county's national team taking part in the Elite Section and Chivas Guadalajara in action in the junior tournament.
And Chile will have a strong representation in the junior competition with O'Higgins FC joined by their compatriots Santa Marta de Liray.
Santa Marta de Liray booked their place in this year's competition by winning a Chilean qualifying competition which took place earlier this year.
Former Manchester United, Aston Villa and Celtic star Dion Dublin was guest of honour at the draw at Belfast's W5 at the Odyssey Arena.
The tournament starts with the traditional parade of competing teams through Coleraine on 27 July and concludes with finals night at Ballymena Showgrounds on 1 August.
Dale Farm Milk Cup draw
Junior
Everton opponents: Middlesbrough, SC Corinthians [Brazil], Co Fermanagh
Liverpool: Sheffield Utd, Rangers, Co Armagh
Brentford: Watford, Queen of the South, Co Down
Southampton: Santa Marta de Liray [Chile], Motherwell, Co Londonderry
Middlesbrough: Everton, Chivas Guadalajara [Mexico], Co Tyrone
Sheffield United: Liverpool, O'Higgins FC, Donegal SL
Watford: Brentford, Global Premier Soccer [USA], Dundalk SL
Swindon Town: Southampton, Santa Marta de Liray, Co Antrim
SC Corinthians: Everton, Chivas Guadalajara,Co Fermanagh
Rangers: Liverpool, O'Higgins FC, Co Armagh
Queen of the South: Brentford, Global Premier Soccer, Co Down
Motherwell: Southampton, Santa Marta de Liray, Co Londonderry
Chivas Guadalajara: Middlesbrough, SC Corinthians, Co Tyrone
O'Higgins FC: Sheffield Utd, Rangers, Donegal SL
Global Premier Soccer: Watford, Queen of the South,Dundalk SL
Santa Marta de Liray: Swindon Town, Motherwell, Co Antrim
Co Fermanagh: Everton, SC Corinthians, Co Tyrone
Co Armagh: Liverpool, Rangers, Donegal SL
Co Down: Brentford, Queen of the South, Dundalk SL
Co Londonderry:Southampton, Motherwell, Co Antrim
Co Tyrone: Middlesbrough, Chivas Guadalajara, Co Fermanagh
Donegal SL: Sheffield Utd, O'Higgins FC, Co Armagh
Dundalk SL: Watford, Global Premier Soccer, Co Down
Co Antrim: Swindon Town, Santa Marta de Liray, Co Londonerry
Plymouth Argyle: Japan FA, Sydney United,North Dublin SL
Japan FA: Plymouth Argyle, Sydney United, North Dublin SL
Sydney United: Plymouth Argyle, Japan FA, North Dublin SL
North Dublin SL: Plymouth Argyle, Japan FA, Sydney United
PREMIER
Newcastle United: RCD Espanyol [Spain], Funabashi [Japan], Co Londonderry
Partick Thistle: Chertanovo Academy, Craig Bellamy Foundation, Co Down
Brentford: Benfica, Lusaka FA [Zambia], Co Fermanagh
Manchester United: CSKA Moscow, Gold Coast Academy, Co Armagh
RCD Espanyol: Newcastle Utd, Orange County Blues, Cherry Orchard
Chertanovo Football Academy: Partick Thistle, Vendee, Co Antrim
Benfica:Brentford, Club America de Mexico,Co Tyrone
CSKA Moscow: Manchester Utd, Otago [New Zealand], Bohemians
Funabashi [Japan]: Newcastle Utd, Orange County Blues, Co Londonderry
Craig Bellaghy Foundation: Partick Thistle, Vendee [France], Co Down
Lusaka Football Academy: Brentford, Club America de Mexico, Co Fermanagh
Gold Coast Academy: Manchester Utd, Otago, Co Armagh
Orange County Blues: RCD Espanyol, Funabashi, Cherry Orchard
Vendee: Chertanovo, Craig Bellamy Foundation, Co Antrim
Club America de Mexico: Benfica, Lusaka, Co Tyrone
Otago: CSKA Moscow, Gold Coast Academy, Bohemians
Co Londonderry: Newcastle Utd, Funabashi, Cherry Orchard
Co Down: Partick Thistle, Craig Bellamy Foundation, Co Antrim
Co Fermanagh: Brentford, Lusaka, Co Tyrone
Co Armagh: Manchester Utd, Gold Coast Academy, Bohemians
Cherry Orchard: RCD Espanyol, Orange County Blues,Co Londonderry
Co Antrim: Chertanovo, Vendee, Co Down
Co Tyrone: Benfica, Club America de Mexico, Co Fermanagh
Bohemians: CSKA Moscow, Otago, Co Armagh
Elite competition
Northern Ireland, China, Mexico, Canada