Gordon Strachan heartened by Scotland progress
Last updated on .From the section Football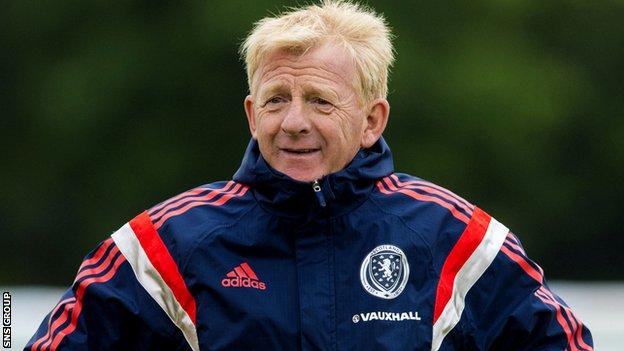 Manager Gordon Strachan says taking Scotland to the European Championship "would mean everything for me".
"We've set a target to do that and there's nothing better than when someone sets you a target and you achieve it," said Strachan.
"And I know, with this group of lads, it can be achieved."
Scotland will once again be jealous onlookers when the World Cup kicks off in Brazil next month, having not been at a major finals since 1998.
But an upturn in results has lifted Strachan's side to 22 in the Fifa rankings, with Scotland beating Croatia twice over the last year and recording victories over Poland, Norway and Macedonia.
The Poles will be in Scotland's qualifying section, along with Republic of Ireland, Georgia, Gibraltar and strong favourites Germany.
Strachan has been encouraged by his squad's progress but is not looking any further ahead than the test against current African champions Nigeria at Craven Cottage.
"You can't plan that far ahead with any international side," he explained. "You can rack your brains for weeks in advance then find out there are five players missing.
"We wait for the guys to get through the door then plan training sessions around that. We'll deal with the present and in doing so, we prepare for the future."
Against Nigeria, Strachan hopes to see more accent on attack to build on a run of four successive clean sheets.
"We'll just have to keep trying to do the things we've been doing, try to be more positive, getting people in the box - that's what we've been working on, making sure our main striker is not isolated.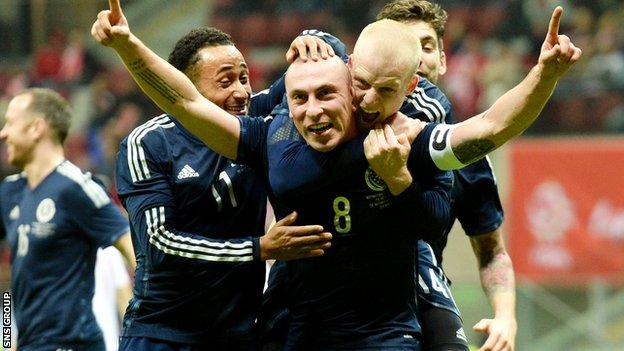 "In general we like to focus on what we can do, the shape that we're going to play. There might be a special team where we have to change the system."
Captain Scott Brown is also excited about the prospect of challenging for a place at Euro 2016.
"It would be huge," enthused the Celtic midfielder. "I was a young laddie the last time at France '98 so it would be a special place for every Scotland fan.
"We seem to be attacking more, it's about lucky breaks as well and we've had a few. But we've been really well organised. Training has been high-tempo and I think that's what the gaffer brings in, it's confidence as well.
"Nigeria is a huge game for us, we want to continue the form we've had. We've been playing really well recently, we've been getting control of the ball and keeping it instead of just playing it up the park and hoping for the best.
"It's a different Scotland side, we're patient, we try to keep the ball, create chances and we're defending well as a team."