World Cup 2014: John Terry speculation irritates Phil Jagielka
Last updated on .From the section 2014 Fifa World Cup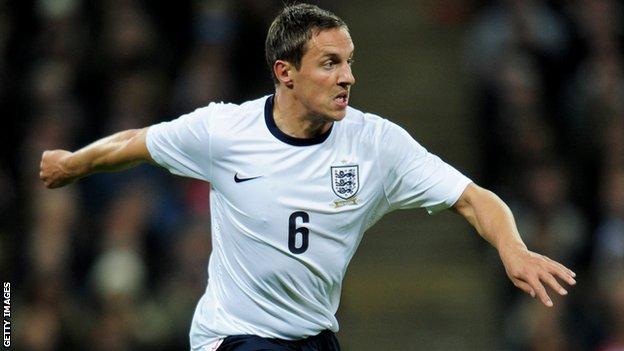 England defender Phil Jagielka says he dislikes hearing calls for John Terry to come out of international retirement.
Jagielka, 31, feels his England central defensive partnership with Chelsea's Gary Cahill is under-appreciated.
"It's difficult. I can't say I particularly like to hear it," he said.
"I understand why I do [hear it]. Obviously Gaz and JT play together at Chelsea, they play in the Champions League and were contenders to win the Premier League."
Jagielka and Cahill, 28, are manager Roy Hodgson's preferred centre-back pairing, with England unbeaten in the 10 internationals the pair have started together, but the Everton defender feels the partnership does not get the credit it deserves.
"I was asked the other day, that while our attack looks good, would our defence be OK. I felt like laughing," he said.
"Our defensive record in the qualifiers was pretty decent, but I can't stop what people are going to ask. I stop, smile and get on with it."
The Manchester-born defender admits he is not yet fully fit after playing just two Premier League matches since February.
Jagielka featured in Everton's final two games of the season against Manchester City and Hull City in May, after missing 11 matches with a hamstring injury, but says he needs to build up his match fitness in England's pre-tournament friendlies.
"I could do with these couple of games before the World Cup just to sharpen up," he said.
Jagielka says he struggled to deal with the intensity of England's training camp in Portugal last week after just 156 minutes of football in the past three months.
The players trained in three layers of clothing in the Algarve to prepare them for the humid conditions of Manaus, where England open their World Cup campaign against Italy on 14 June.
"Warm-weather training last week was a little bit difficult, and it will be difficult this week but it is something I need. I do not feel 100% fit but I do feel really good at the moment," he said.
England face Peru on 30 May at Wembley before two games in Miami, against Ecuador on 4 June and Honduras on 7 June.