Mauricio Pochettino: Tottenham boss will 'focus on coaching'

Last updated on .From the section Tottenham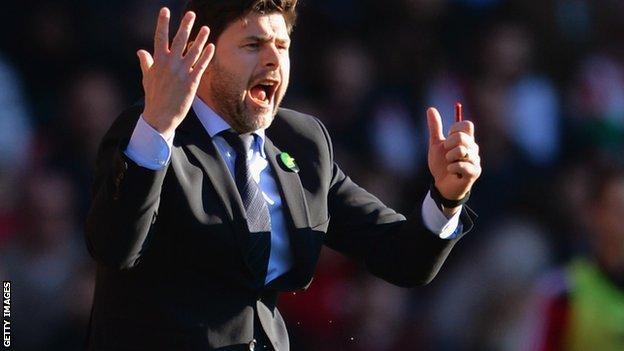 It is unlikely that there was any hesitation when Mauricio Pochettino was given the opportunity to become Tottenham's new manager.
As a young boy growing up in Argentina's Santa Fe province, he would go to the local football club with his father, a farm labourer, to watch his heroes.
He was aged just six when Argentina lifted the World Cup. A team of heroes. Mario Kempes and Daniel Passarella stood out. As did two others. They were soon to play their football for Tottenham Hotspur in England and their names were Ossie Ardilles and Ricky Villa.
Nostalgia coupled with the doubts that arose in Pochettino's mind following the resignation of Southampton chairman Nicola Cortese in January meant his departure has had an air of inevitability for some time.
Spurs have made no secret of their interest in recent months and were finally given permission to speak to the Argentine last week, after Pochettino himself agreed to pay Southampton the £2m release fee that was stipulated in his contract. The details took no time.
The question now is whether the 42-year-old has chosen to move to Spurs at the right point in his career and whether this is a club set up to allow him to thrive?
If Pochettino arrived at St Mary's as a relative unknown, he leaves for White Hart Lane, 18 months later, as one of the most highly-regarded young managers in the game. The outrage that surrounded the sudden sacking of Nigel Adkins lasted no more than a few weeks.
The players, the fans, the wider football world could see the impact the Argentine was having. Those close to the Southampton squad described an immediate uplift among the players, he captured their imagination. His training sessions were innovative and exciting to watch. He pushed his players, challenged them. It was said there was an immediate respect, excitement and a total belief.
The Spurs dressing room has been a place devoid of harmony in recent times and restoring that is arguably the biggest challenge facing Pochettino. At Southampton, Adam Lallana, Luke Shaw, Jay Rodriguez and others were extremely close to their manager.
It would be inaccurate to say he was universally liked - no manager ever is. There was a feeling at Southampton that his fringe players did not always feel part of the project. Other members of the staff would step in to reassure and reason. But there was still a sense to some players in the squad, that unless you were one of Pochettino's stars, you meant little to him. That may need to alter.
At Spurs, it is hard to know where to begin, with so many players out of favour, out of form and needing some kind of reassurance that they do have a future at White Hart Lane. Pochettino's compatriot Erik Lamela may be the club's £30m record signing but at this stage Spurs have seen little return.
It remains to be seen whether Pochettino chooses to work with the players that are at Spurs or attempt to delve into the transfer market. Having spent £100m plus on new talents last summer, Tottenham chairman Daniel Levy may feel that his new manager has more than enough untapped talent at his disposal. The new manager prides himself on an ability to improve players and that will be put to the ultimate test in his new job with Spurs consistently adding up to far less than the sum of their many talented parts. It is a challenge Pochettino will relish.
Pochettino may have established a reputation for being a pragmatic and powerful central defender with Argentina and PSG, but he loves to see his side attack. Much too was made of his high-tempo pressing game, which has been every bit as important to Southampton's success.
His second game in charge was a narrow defeat at Old Trafford where the then-Manchester United boss Sir Alex Ferguson would say: "They pushed on top of us and didn't give us any time on the ball." It would become a trademark, a cornerstone of Pochettino's managerial philosophy as Southampton became a football team intent on forcing their opponents to give the ball away in dangerous areas. It is the kind of hunger Spurs fans will say they've not seen enough of lately.
Spurs bosses and Pochettino at Saints

Manager

Games

W

D

L

GF

GA

W%

Tim Sherwood

22

13

3

6

40

30

59.1%

Andre Villas-Boas

54

29

12

13

81

67

53.7%

Harry Redknapp

144

71

37

36

228

161

49.3%

Martin Jol

113

47

30

36

168

146

41.6%

Mauricio Pochettino

54

19

18

17

73

66

35.2%
When he first arrived at St Mary's, players were surprised that so little time was spent focusing on the opposition. The manager would only mention them for two or three minutes after the pre-match meal. No plans were made for specific players. Instead, Pochettino focused on his team, on his approach. It bred a confidence, a swagger. Whether Southampton were playing Manchester United away or Cardiff City at home, the preparations would stay the same in the week before. Formations were not discussed among the players, only shape. Pochettino talked about areas and fluidity but never the need to stay in a rigid 4-2-3-1 or 4-4-2. It was innovative stuff and it worked.
The public perception of the Argentine is that he is mild-mannered, softly spoken and cannot speak English. All three are wide of the mark. This is a confrontational manager when he has to be. At Southampton, he had run-ins with his chairman, with his players and with club staff. After his first month in England, he spoke very good and very understandable English and will be expected to do so publicly from the moment he formally takes charge at Spurs.
Since sacking Harry Redknapp in 2012, Levy has favoured the continental structure. Pochettino is used to working in such an environment. However there is uncertainty at Spurs and he may find he has walked into a fluid political situation. Director of football Franco Baldini would appear to be the obvious candidate to continue to take responsibility for transfers but his position is unclear. Tim Sherwood was a key component of that backroom structure before he was promoted to replace Andre Villas-Boas. He has yet to be replaced.

At Southampton there was no lack of clarity for Pochettino. He was "head of the football department", as Cortese once said. While that was widely taken as an insult, what it meant in reality was that Pochettino was left to focus on preparing the first team and little else. He had a say, but not a decisive one, on transfers. Scouting and negotiations of player contracts had nothing to do with him. He did not deal with agents, the medical team, the youth academy or when and how the team travelled. All of that was taken out of his hands to allow him to concentrate his efforts on the first team.
For transfers, Pochettino was part of the sales pitch when players arrived on the south coast for talks. The individual would be shown how he would fit into the Southampton side and how his potential team-mates would work in around him. Players would be sold the vision of the club, made to feel part of a project. Pochettino was key to that. The club felt its success rate in persuading players to sign from this point in talks was 100%.
Having worked with one demanding chairman at St Mary's, Pochettino will already be well aware that he will encounter another at White Hart Lane. Levy has made no secret of the fact that he wants to see Spurs back in the Champions League. However, with Spurs finishing last season sixth and Liverpool, Manchester City, Arsenal, Chelsea and Manchester United intent on improving, that will be a challenge. Pochettino faced strong demands at Southampton, even if publicly the pressure was off. Saints finished eighth in the league. Cortese wanted top six after a summer of expensive acquisitions. Pressure will be nothing new.
If Pochettino can be left to use his talents to improve players, to mould his team and to develop Spurs into one of the most exciting sides in the Premier League, he will feel he has every chance to succeed. If he finds himself dealing with every aspect of a vast and, at times, daunting football club, Levy may find himself looking for an 11th permanent manager before very long.
For now, though, Pochettino is dreaming of returning the glory, the nostalgia and, most importantly, the hope back to Spurs.