World Cup 2014: Meet 'The African Messi' & 'Paul the Octopus'
Last updated on .From the section 2014 Fifa World Cup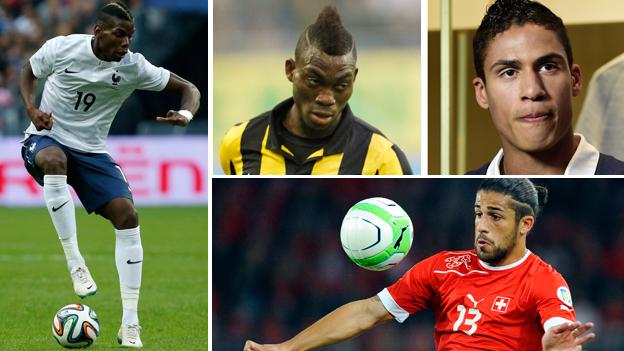 Go to our new World Cup features and video index for more in-depth content and analysis.
There are plenty of potential stars of the 2014 World Cup - and many new faces too.
The squads are unlikely to provide many surprises; the days when the tournament would introduce unknown players to a global audience are, largely, gone.
But the crop of young talent heading for Brazil this month will still be hoping to make a big impression at what, for some, will be their first finals.
Who will shine on the biggest stage of all? BBC Sport's TV and radio World Cup commentators pick the players from outside the Premier League aged 23 and under who are worth watching out for.
Some are familiar, others less so.
James Rodriguez, Colombia

Age:

22

Club:

Monaco

Position:

Midfielder

Nickname:

'El Nuevo Pibe' (The New Kid)
Steve Wilson: James Rodriguez is an outstanding young playmaker and is nicknamed 'El Nuevo Pibe' (the new kid) in Colombia in tribute to Carlos Valderrama, who was known as 'El Pibe' (the kid).
Brazil will be a very big stage for him and maybe by the next World Cup he will be more mature, but he could still shine this summer.
Simon Brotherton: James is Colombia's creator-in-chief and has the ability to sprinkle stardust on any match. From what I saw of him, he was arguably even better and more influential for Monaco once his team-mate and compatriot Radamel Falcao was injured last season. So, the fact that Falcao is out of the World Cup might not necessarily be bad news for Colombia.
Christian Atsu, Ghana

Age:

22

Club:

Chelsea

Position:

Midfield/winger

Nickname:

'The African Messi'
Steve Bower: An attacking player nicknamed 'The African Messi', Christian Atsu got two goals in qualifying for the World Cup and played a big part in helping Ghana get back to the finals after they did so well four years ago in South Africa.
Atsu has been playing in the Netherlands with Vitesse but he is actually Chelsea's player. They signed him from Porto in 2013, beating off a host of top clubs to get him. He was loaned to the Dutch side without playing a game for the Blues, but has been in outstanding form this season and could make a big impact coming off the bench in Brazil.
Raphael Varane, France

Age:

21

Club:

Real Madrid

Position:

Centre-half

Nickname:

'Mr Clean'
Guy Mowbray: Most people will have already heard of Raphael Varane but, other than his appearance in the Champions League final, might not be able to pick out a performance by him. They will after this World Cup.
His former manager at Real Madrid, Jose Mourinho, has said he already rates Varane as the best central defender in the world. In what might be a defensively minded tournament, Varane could turn out to be a key player for France.
Xherdan Shaqiri, Switzerland

Age:

22

Club:

Bayern Munich

Position:

Midfield

Nickname:

'Auberzwerg' (Magic Dwarf) and 'Kraftwurfel' (Power Cube)
Ian Dennis: There is a danger when you've seen a player from a few years ago that you think he is older than he actually is.
I first saw Shaqiri four years ago when he hit a spectacular goal against England in Basle in a European Championship qualifier as Switzerland lost 3-1. He impressed me again at Wembley in a 2-2 draw the following summer.
It's hard to believe he is still only 22 but his pace and movement will cause problems. Shaqiri favours his left foot and he can be threat at set-pieces too.
Matthew Ryan, Australia

Age:

21

Club:

Club Brugge

Position:

Goalkeeper
Guy Mowbray: I cannot see his nation progressing out of a group with Spain, the Netherlands and Chile, but it means Australia goalkeeper Matthew Ryan will be busy in Brazil and a few more people might know his name after this World Cup.
He is already a very good goalkeeper and has been in excellent form playing in Belgium. I would not be surprised if we see him at a decent English club in the future.
Neymar, Brazil

Age:

22

Club:

Barcelona

Position:

Striker

Nickname:

'Joia'
Jonathan Pearce: Neymar has not had the best of seasons with Barcelona but he has been brilliant in all the warm-up matches that I have been lucky enough to commentate on over the winter, including a memorable hat-trick against South Africa in March.
He has an electrifying turn of pace, superb skill, a winning mentality and the backing of a whole nation. He is face of countless products in Brazil, and even has a cartoon strip named after him.
Neymar mania will grow and grow. Brazil adores him. Defenders will hate him. He will be the star of the show.
Watch Neymar score a cheeky penalty during a Brazil training session
Steve Bower: I think you could almost break it down to saying that if Neymar has an outstanding World Cup, then Brazil have an outstanding chance of lifting the trophy.
William Carvalho, Portugal

Age:

22

Club:

Sporting Lisbon

Position:

Midfielder
Ian Dennis: Along with Benfica's Serbia forward Lazar Markovic, I would say William Carvalho is one of the brightest talents in Portugal's domestic league at the moment.
An imposing defensive midfielder, he is powerful, extremely athletic and has great awareness to spot danger as he helps protect his back four. Carvalho has been linked heavily with Manchester United this summer but could find other suitors if he impresses in Brazil.
Ricardo Rodriguez, Switzerland

Age:

21

Club:

Wolfsburg

Position:

Left wing-back
Simon Brotherton: When you look at Switzerland's team, many people have heard of Juventus defender Stephan Lichtsteiner, who plays at right wing-back, but it is worth looking at their left-hand side too.
Ricardo Rodriguez first came to prominence at the Under-17 World Cup in 2009 where he scored three goals. He is a key player at set-pieces for Switzerland and he also pops up with some important goals himself.
Paul Pogba, France

Age:

21

Club:

Juventus

Position:

Midfielder

Nickname:

'Paul the Octopus'
Simon Brotherton: Paul Pogba was the best player at last summer's Under-20 World Cup, which was won by France, and he has just secured his second Serie A title with Juventus. He has a great engine, can create goals, score goals and uses the ball well.
Steve Bower: Since Pogba left Manchester United to go to Italy in 2012, he has thrived and is a mainstay of the Juventus team, where he has earned the nickname 'Paul the Octopus' because of his long legs. He adds so much energy to the team and is good in the air too. He will thrive on the world stage.