Daniel Lloyd-Weston: Hereford United keeper opts to leave
Last updated on .From the section Hereford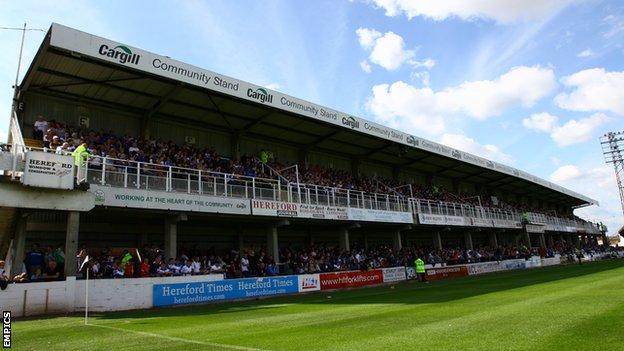 Hereford United keeper Daniel Lloyd-Weston has opted to leave as he is still owed part of his salary by the troubled Conference Premier club.
Lloyd-Weston, 22, has told BBC Hereford & Worcester that he is not the only player still owed money by the Bulls, who are currently up for sale.
"The money I'm owed might not sound too substantial to some people," he said.
"But, as a percentage of what I am owed contractually, it is a lot. I need it to survive, to put food on the table."
After making his debut for the Bulls in November, the Manchester-born former Port Vale and Cheltenham Town reserve keeper became a fixture in the Bulls team over the second part of the season.
He conceded a comparatively frugal 37 goals in 28 appearances, 10 of which came in the space of two matches at Woking and Luton when Hereford hit the low point of the season in early February.
But, after playing a key role in the three wins in five matches that steered the Bulls to their near miraculous final-day rescue at Aldershot, Lloyd-Weston is upset at the lack of contact since from the club, who allowed caretaker manager Peter Beadle to leave last week for Conference South side Sutton United.
"We had that high on April 26th. Then we haven't heard anything from the club," Lloyd-Weston told BBC Hereford & Worcester.
"We were then told we'd receive an email every week to notify us of the situation and we haven't received one.
"I just think what's the point of making promises if they're not going to keep them. It's unfair and unjust how the club have treated this.
"It's not like I'm asking for the earth. I'm not a £100,000 a week player from the Premier League. I'm on the equivalent of a minimum wage.
"Some lads have got mortgages and children. We kept our end of the bargain. We stayed and did the job.
"If this was any other club they'd have struggled to put a team out. Anywhere else, the lads would have walked."
Under Conference membership rules, Lloyd-Weston has notified the club, the league and the Football Association, giving 14 days' notice of the termination of his contract, making him a free agent.
"I'm disappointed as I've grown really attached to the club and I saw a future here," added Lloyd-Weston.
"I had the hunger and desire to do well but my hands have been tied.
"The off-field issues have been well documented and I'm now looking to further my career at another club."
Former Bulls manager Martin Foyle's petition for a winding-up order against Hereford is due to be heard at The Royal Courts of Justice on Monday, 2 June.
The Conference's Annual General Meeting will take place four days later on Friday, 6 June and the Bulls have to clear all their football debts by then, or they may face sanctions that could yet include relegation, possibly reprieving Chester from the drop.
Meanwhile, Hereford United Supporters Trust officials say they are "deeply concerned" about the length of time it is taking to complete the proposed investment deal in the club.
In a statement, they have called on the board to make a decision in the best interests of the club and their fans.
Dan Lloyd-Weston was talking to BBC Hereford & Worcester sports editor Trevor Owens.