World Cup 2015: Scotland's Anna Signeul outlines vision for success
By Cheri Burns
BBC Scotland
Last updated on .From the section Football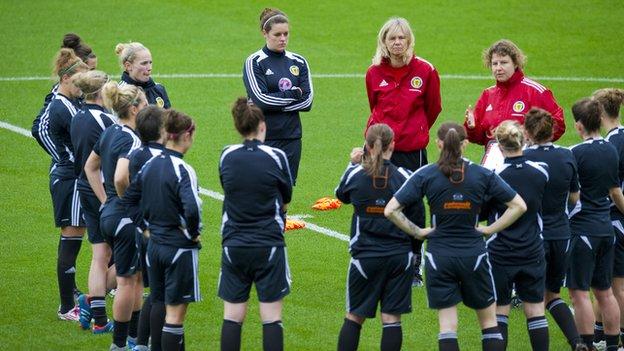 Anna Signeul believes Scotland have the potential to become one of the leading nations in women's football.
And the ambitious national head coach says the sky is the limit, as she aims to build on current momentum.
"We want to become one of the eight best countries in the world," the Swede told BBC Scotland.
"There are countries around us that are as small as Scotland, in terms of population, that can achieve these goals - like Norway - so why shouldn't we? There is nothing stopping us.
"The way we have executed the World Cup qualifying campaign has been very convincing and it gives us a lot of confidence. We have always punched above our weight, and I still think we do that, but we are starting to get the consistency in our performances.
"There is a winning culture within the girls' and women's programme. We always had a lot of good talent.
"However, they haven't had the right approach to their own football, and living and acting like an elite athlete, but that is what these young players do now - they know what is required," she added.
Signeul next takes her charges into two vital games, against her native Sweden, the top seeds, and Northern Ireland, which will play a big part in determining whether they make it to the finals in Canada.
"Sweden still are the favourites, but I do feel quite good about both fixtures," said Signeul.
"I think the players also feel good. We fancy our chances."
Although the focus is on those ties and the hope that her outfit will reach their first major showpiece next year, the determined coach has a clear vision for the game that goes beyond 2015 and centres on creating a pathway for long-term success.
"It has always been about building a structure that is sustainable, and is not one-day success," she explained. "That is what I think is so pleasing.
"We are doing well with all the national teams now; you see the constant development, we take one step at a time.
"We have a squad of 20 players who are all elite athletes and we did not have that before. They are so focused on their football and it is fantastic to have achieved that. If you are an elite athlete off the pitch then you will make way for your success on the pitch."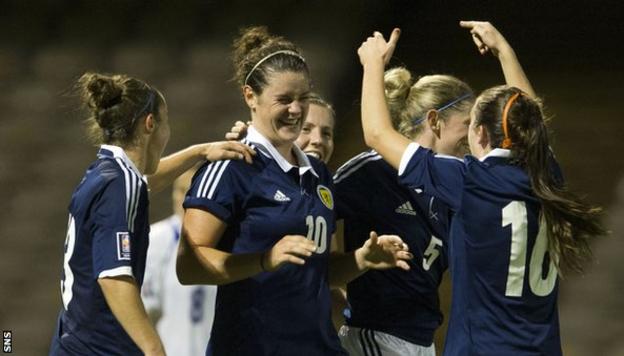 That view is shared by Sheila Begbie, who, as the Scottish FA's head of girls' and women's football, has seen the landscape of the female side of the sport change significantly.
And Begbie believes that one of the biggest signs of how far it has come is the progress of domestic clubs, illustrated by Glasgow City's run to the last 16 of the Champions League last year.
"I think we have witnessed a huge difference over the last eight to 10 years," she said. "At grassroots level, we have worked really hard together to increase the base of the game, and have got more than 6,000 players within our clubs.
"It has been a lightbulb moment with the clubs, where they have realised what their responsibility is.
"Through the work Anna and I have done, we have got a great relationship with them, and it is really important that we are all pulling in the same direction.
"Everything is moving well, and the icing on the cake for us going forward will be that our women's team reaches a finals tournament. For Anna and I, we actually identified that first tournament status as Euro 2017. So, it would be great to get to Canada, but we must qualify in 2017."
Signeul, appointed in 2005, has high hopes for all age groups, but is aware she, her players and staff cannot rest on their laurels because of the good position they find themselves in.
She said: "We need more investment, because this growth has happened with very small resources.
"I am scared that people may say 'you do not need any more resources because you have reached where you want to be.' We can do so much more.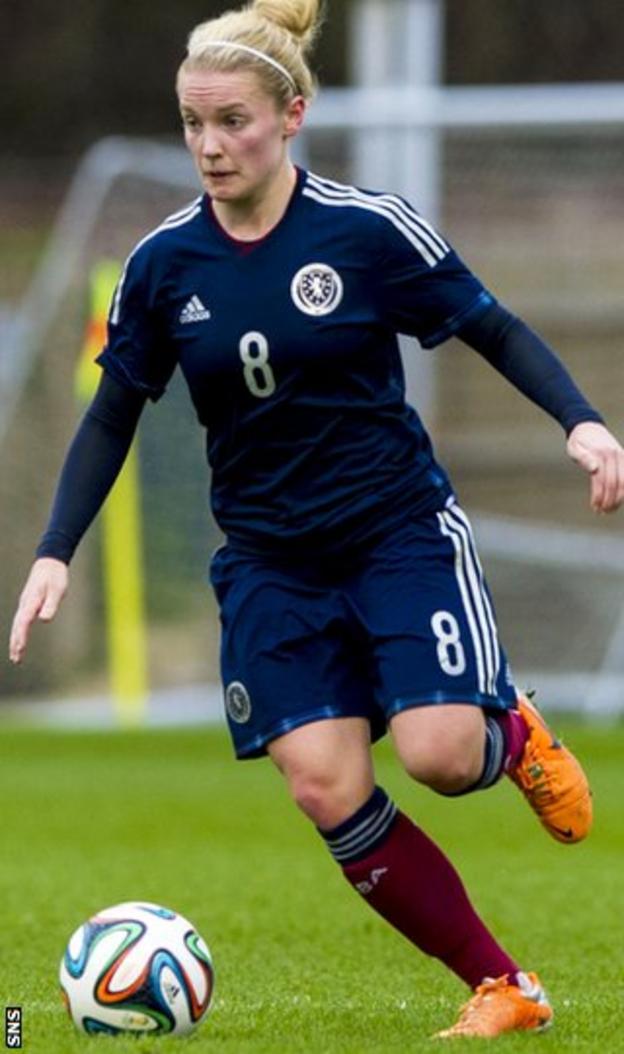 "The countries that are above us are doing everything to develop. The competition is vast. You can never sit back and think you have done a good job - nothing happens by itself."
The senior team currently sit 11th in Europe and 19th in the world, and this has led to some of their star names opting to ply their trade outside the Scottish leagues - with the likes of Kim Little now playing in America.
And although she enthuses that this is nothing but positive for the individuals, Signeul insists that, for the structure to develop here, it is key players stay in Scotland.
"When you lose players to go and play professionally that is great for them, first of all, and it is going to increase the level of professionals in our national team, so we will benefit from that," said Signeul.
"However, on the down side, we lose good talent; we lose media interest in the league because they are playing in Seattle instead of playing at Hibernian.
"We have to develop the game in Scotland, because we want our league to be a semi-professional one that attracts players.
"We have visions and dreams for it, so we are not giving in and saying everyone can go abroad. We want to help them to live their dreams, but work with the football in Scotland.
"We need to be very proactive and never sit still, and that means looking at the youth and senior leagues and coming up with some good ways to improve.
"It is a challenge when you do not have so many teams and players, but it is one that must be met."
And Begbie adds: "People are sitting up and taking note of Scotland. They are looking at the competitors we have, that is a huge difference.
"Next, there must be a review of our competitions to ensure we are really challenging and providing a developmental opportunity for all our players."