World Cup 2014: Wenger put country before club for Wilshere
Last updated on .From the section 2014 Fifa World Cup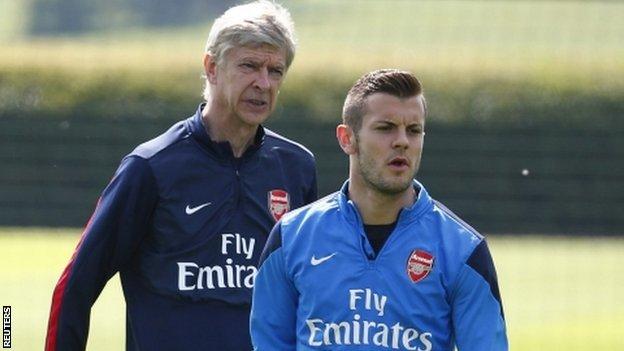 Arsene Wenger refused to rush Jack Wilshere back from injury because he wanted to ensure the midfielder was fit for England's World Cup campaign.
Wilshere says Wenger, who has been critical of aspects of international football in the past, was prepared to sacrifice short-term impact at Arsenal to boost the national team.
"I thought I was ready," said Wilshere, who suffered a foot injury in England's win over Denmark in March. "He said 'no'. For a good World Cup, I had to train and have a good fitness base."
That injury was the latest in a series of setbacks for Wilshere, so the 22-year-old was happy to take the advice from his experienced manager.
"I spoke to him because I came back training and I was panicking a bit about the squad," said Wilshere.
"He wanted me to get a week or two of training under my belt because even though I had been with the fitness coach, I didn't have that contact."
As well as injury difficulties, Wilshere had to contend with criticism from Paul Scholes this season, with the former Manchester United player claiming that the Arsenal midfielder had not developed significantly since his debut in 2008.
Wilshere spoke to Scholes about his criticism and received an open invitation to ring for further advice whenever the need arises.
Wilshere accepts his injuries, dating back to an ankle problem suffered in the pre-season of 2011, have been a concern, although he is not sure what he could have done about them.
"I wouldn't say I get depressed but the more it happens you get more depressed," he said. "You have to take positives. We are away quite a lot in this job and it is nice to be at home with your kids sometimes.
"But my problems have never been muscle injuries or from playing. It has always been an impact injury.
"In that respect anything can happen. But I am fully fit, my muscles are good and hopefully it will be alright."