Hereford United: Investors begin payment process to Bulls creditors
Last updated on .From the section Hereford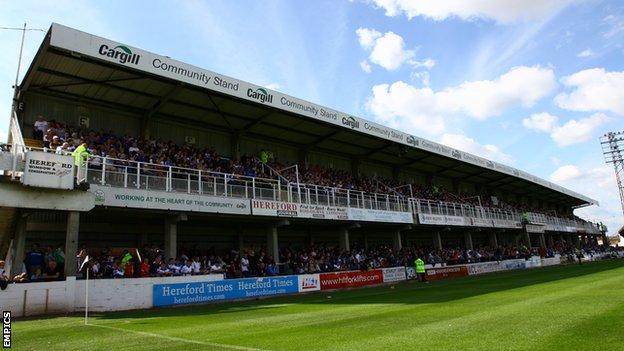 Hereford United have announced that the consortium of investors involved in trying to take over at Edgar Street have begun the process of payments to the Bulls' football creditors.
The Bulls issued a statement on their club website on Wednesday night.
"Investors have started the process of making payments to football creditors at Edgar Street," it read.
"Representatives from the consortium of investors involved in Hereford United visited the club today.
The club's latest directive comes on top of Hereford keeper Daniel Lloyd-Weston's announcement that he was leaving as he is still owed part of his salary by the financially-troubled club.
As for former Bulls manager Martin Foyle, who left in March, his petition for a winding-up order against Hereford is due to be heard at The Royal Courts of Justice on Monday, 2 June.
When the season ended with the Bulls' near-miraculous escape from relegation on 26 April, they had to find approximately £225,000 or face potentially being thrown out of the league.
This money includes £70,000-£80,000 owed to Revenue and Customs (HMRC) and £30,000 owed to football creditors, including clubs from whom the Bulls loaned players during the 2013-14 season, as well as members of the current squad who are owed wages.
Chairman David Keyte, who has already put over £600,000 of his own money into the club during his three-year tenure, has been in talks with three prospective groups looking to take over.
If the Bulls do not clear all their football debts by 6 June they would face sanctions that could yet include relegation, possibly reprieving Chester from the drop.