Brazil's Soccer Cities: from Rio to Brasilia
Last updated on .From the section 2014 Fifa World Cup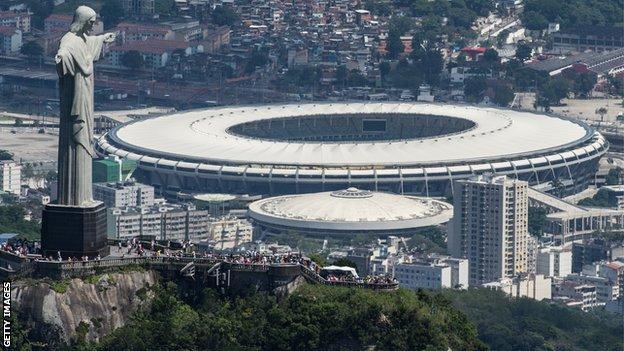 Brazil's Soccer Cities is a video series featuring some of the Brazilian cities that will be hosting World Cup matches - Rio, Recife, Brasilia, Manaus, Salvador and Sao Paulo.
Discover Brazil's World Cup cities through the eyes of the BBC's Brazilian reporters. BBC Brasil will give you a taste of some of the country's most exciting and colourful places. From dancing with drag queens in Sao Paulo, to swimming with dolphins in an Amazon city, to going on favela mountain biking adventures and free running across the country's sci-fi capital. Find out what makes this country so special - and why it's the place football calls home.
Rio
Rio is the carnival capital of Brazil with parties a plenty. It is a place of natural beauty but a fifth of the population still live in slums.
Recife
The capital of colour, a coastal metropolis of beaches and rivers, Recife has given Brazil some of its most influential artists, writers and musicians.
Brasilia
The power base of Brazil and home of the national government. Despite only being formed in 1960 - after just four years of building work - it is the capital of Brazil.
Manaus
Nestled in the heart of the world's largest rainforest - the Amazon - Manaus is now a major industrial centre, where nature provides more than just beauty.
Salvador
Brazil's African soul, Salvador was at one time the main point of entry for slaves taken from all over Africa. Famed for its exuberance, it's the home of capoeira.
Sao Paulo
The concrete jungle of Sao Paulo is South America's largest city. The cosmopolitan 'Paulistas' who live here work hard and play hard.