Hibs fans reject club's plea to postpone protest action
Last updated on .From the section Football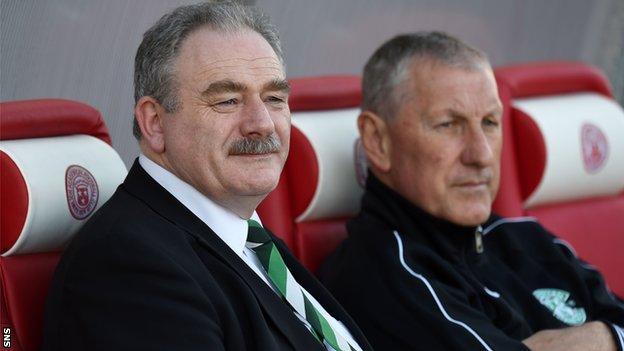 Hibernian fans have rejected a plea from the relegated club to postpone protest action until their new chief executive reveals her future plans.
It follows a meeting with Hibs Supporters' Association, which wants chairman Rod Petrie to stand down.
Petrie stressed that he would be handing over the day-to-day running of Hibs to Leeann Dempster from Monday.
"The request to wait for a week before taking further action was turned down," said a club statement.
Angry fans met on Monday following the previous day's Scottish Premiership play-off final defeat by Hamilton Academical.
They will outline their plans at a "Future of Hibernian" meeting on Friday, when association chairman Mike Riley will host a media conference "with former players and well-known Hibs supporters in attendance".
But, following a request for a meeting with the club, Riley and a delegation including former Hibs midfielder Paul Kane confronted Petrie and club officials on Thursday.
A Hibs statement said that the group, which claims to have the backing of 95% of the club's fans, "demanded the resignation of chairman Rod Petrie".
"The board fully understands the level of supporter anger and frustration, has recognised for some months the imperative for change, and has been actively working towards this," the Edinburgh club said on their website.
"The club representatives asked for an opportunity for incoming chief executive Leeann Dempster, who takes on all executive responsibility as of Monday, to outline plans for change - she is due to meet all supporters groups in her first week.
"The groups Leeann is to meet under the 'working together' umbrella include Hibernian Supporters Association and its branches, the fan websites, the Former Players Association, the Historical trust, The Hibernians and the Erin Trust."
There have been calls for Hibs fans to follow the lead taken by Rangers supporters' groups this summer by withholding season ticket funds.
"The club also expressed its deep concern that any actions to 'starve' the club of support during the challenging months ahead risk causing long-term damage," added the Hibs statement.
"The group was asked to outline their own proposals and plans for change. They declined and instead made only one demand, which was for the resignation of chairman Rod Petrie.
"The chairman stressed he was relinquishing all executive responsibility for the running of the club from Monday.
"His non-executive role thereafter is to help facilitate the positive changes which the board believes supporters will welcome."
Riley previously told BBC Scotland that major changes need to be made at the club, and has called for the removal of the chairman and manager Terry Butcher.
He says that, as it stands, the club is "rotten to the core".