World Cup 2014: Steven Gerrard backs Wayne Rooney

By Phil McNulty
Chief football writer
Last updated on .From the section 2014 Fifa World Cup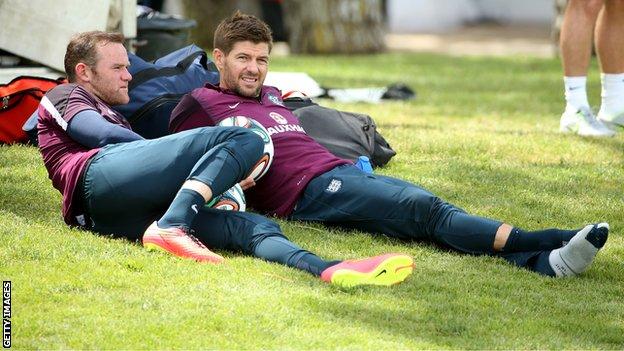 England captain Steven Gerrard has made a passionate defence of Wayne Rooney after former Manchester United team-mate Paul Scholes suggested the striker may be past his peak.
Scholes also questioned whether England's management team would have the courage to ever drop Rooney.
But Gerrard, 33, said: "I think Paul Scholes was wrong.
"Wayne has been Manchester United's best player throughout the season, both at home and in Europe."
Manager Roy Hodgson, who leads England into next month's World Cup in Brazil, agreed, insisting the 28-year-old Rooney was not "past his best".
The former Liverpool and West Brom boss said: "I believe in Wayne Rooney. He's still a young man. I've selected Wayne in a 23-man squad that I am very proud of. "
He added: "If I'm going to have to comment and defend people or challenge opinions every time someone airs one, I'm going to be a very busy man at this World Cup.
"Maybe the next one is Franz Beckenbauer or Pele. Who knows?"
England face Peru on Friday in their final home friendly before the World Cup, which starts on 12 June.
Warm-up games against Ecuador and Honduras follow in Miami before Hodgson's side kick off their campaign in Brazil with a Group D match against Italy on 14 June.
Rooney, who underwent a special training programme in Portugal once the domestic season was over to ensure he had recovered fully from a groin injury, has not flourished in a major tournament since Euro 2004, when he was just 17.
The former Everton forward was troubled by injuries at the 2006 World Cup in Germany and in South Africa four years later.
Then, at the European Championships in 2012, he missed the first two games because of suspension.
"Age 28 or 29 has been the normal peak," said Scholes. "With Wayne it could have been when he scored 27 league goals in 2011-12 when he was 26.
"Wayne was in the Everton team at 16 in 2003. Since then, he has played at Euro 2004, two World Cups, the Premier League and Champions League every year. There's a chance he's worn out."
But Liverpool midfielder Gerrard responded: "He's been in terrific form.
"I can only judge from my opinion but from what I've seen of his performances in the United team and his form has been really positive.
"He's worked hard this week and he decided to do his own week of extra training. He seems in a much better frame of mind going into this tournament than in previous tournaments when he's had injuries on his mind. I'm excited about where Wayne Rooney is at."