Jersey could 'hold their own' in England - Peter Vincenti
Last updated on .From the section Football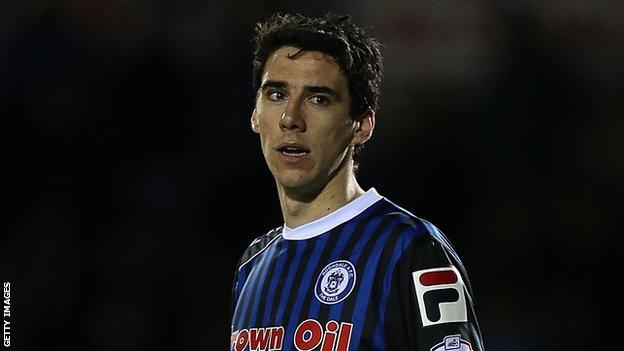 Jersey-born Rochdale midfielder Peter Vincenti says players on the island would be good enough to compete in an English league.
Former Jersey manager Craig Culkin is
Guernsey FC have won two promotions in three seasons since being formed in 2011 and now play in the Ryman League.
"The players could more than hold their own. Guernsey have shown it," Vincenti told BBC Radio Jersey.
Vincenti, along with Jersey's AFC Bournemouth forward Brett Pitman, are the only Channel Islanders currently playing regularly in the Football League.
"You look at how Guernsey have done, they've got back-to-back promotions. I've no doubt that the Jersey players at the minute could get back-to-back promotions themselves," Vincenti said.
But he has questioned how sustainable an island side in an English league would be in the long term.
"At some point the players will get to level where they can't go any further, my only worry is what happens after that?
"Would a Jersey FC be content with staying at that level or are they going to start pulling players in from elsewhere?
"You could get the situation where you could have just a Jersey football team under the bracket of Jersey football employing English players and playing English players and having very few local lads playing in it, that's the problem I see."
But Vincenti says that whatever the future of island football, the decision will come too late for most of the current squad:
"At the moment it seems to be about the here and now and everyone wants instant success," the 27-year-old said.
"Quite possibly for the players that are playing, very good players that I played with before like Jack Cannon, Jack Boyle and Luke Watson, the difficult thing for them is that unfortunately the time may have passed for them to do something.
"Everyone's talking about this moment now. I just feel as though nobody's really spoken about what we can do for the future of Jersey football."