Barnet looking to sell Underhill, says Tony Kleanthous
Last updated on .From the section Barnet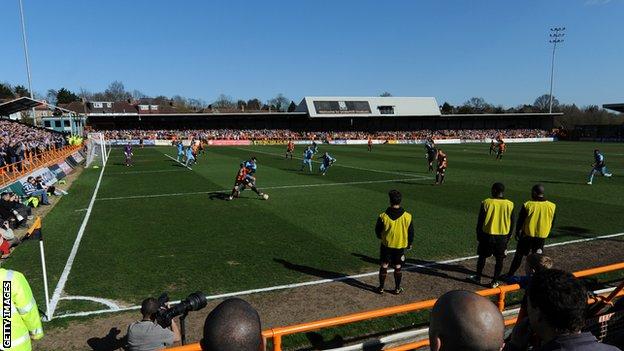 Barnet chairman Tony Kleanthous is looking to sell their old stadium Underhill, which was the club's home for 106 years.
"We have had Broncos keeping it ticking over," Kleanthous said.
"It is clearly deteriorating fast and the cost of maintaining the old stadium seems disproportionate."
Barnet left Underhill, where they had played since 1907, at the end of the 2012-13 campaign because of long-standing issues with Barnet Council.
The Conference Premier club have a 10-year agreement with Harrow Council to play at The Hive, which is also their training base, with the ultimate goal to find a new permanent home.
Some Bees fans have formed a campaign to see the club return to Barnet, with a view to submitting their own planning application for a new stadium.
"I have waited until after the local elections to see whether the Back to Barnet campaign would have any success and to give local supporters every opportunity to influence the councillors looking to get elected," Kleanthous said in an article on the club website.
"Ultimately, we would all like to be in Barnet, but this will require a concerted effort from a sizeable group of supporters. I'm not too sure whether enough have the appetite anymore.
"I do support the Back to Barnet campaign, although there has not been too much activity of late."