Arsene Wenger: Arsenal manager ready to build again

By Phil McNulty
Chief football writer
Last updated on .From the section Football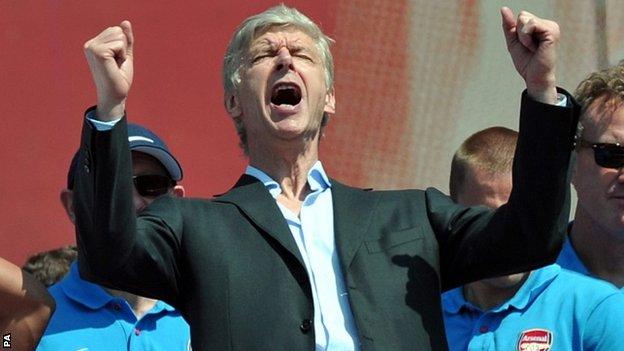 Arsene Wenger had always made it clear he would sign a new contract at Arsenal. But until that new deal was signed and sealed there remained a shadow of doubt.
And perhaps that shadow was at its darkest only eight minutes into the FA Cup final against Hull City at Wembley earlier this month when Arsenal, overwhelming favourites to end a nine-year trophy drought, trailed by two goals.
If Arsenal - and more to the point here Wenger - had lost that final, would he have questioned his own appetite to sign on for three more years on the back of such a devastating defeat?
Would Arsenal's fans, even those who have provided such staunch support throughout a career spanning more than 1,000 matches at the club, have wondered whether the man who brought a steady supply of success between his arrival in 1996 and 2004 had lost his winning touch forever?
Instead, Arsenal recovered to win a dramatic final 3-2 in extra-time, a breath of fresh air blew through the corridors of the Emirates and Wenger can sign his new contract a winner once more, looking forward to a new era.
In the modern way, Arsenal's key players such as Theo Walcott and Aaron Ramsey, the man whose extra-time goal brought such relief and celebration to manager and club, took to Twitter to express their delight at his decision to stay.
And no-one should doubt the sincerity of those sentiments. The manner in which Arsenal's players showered Wenger with champagne before tossing him into the air at Wembley was indicative of the respect and affection in which he is held by his squad and those in authority at the club.
Behind the scenes, Arsenal's hierarchy were intimating at least 12 months ago that a new contract was simply in the drawer awaiting Wenger's signature. It was only a question of when he wished to conclude the deal.
With the FA Cup back in Arsenal's trophy room once more and the winning feeling back at the club, along with Champions League football again, Wenger's commitment to the future became a formality.
There may be some fans who expressed doubts about Wenger last season but a new deal is a much easier sell with a trophy won, rather than an inquest into another empty-handed season to be conducted.
It is hard to see Wenger at any other club that Arsenal. Over the years they have proved to be the perfect fit. But now he must take advantage of the platform he believes has been created by that FA Cup win.
Arsenal's Premier League title challenge, admittedly hit by injuries, faded once more and for a spell in the closing weeks of the season it looked like they could be taken out of the Champions League equation by Roberto Martinez's resurgent Everton.
Now Wenger must act decisively in the transfer market to address the flaws that still exist in Arsenal's squad.
Talents such as Ramsey, Walcott, Jack Wilshere (when fit) and Alex Oxlade-Chamberlain provide solid foundations, but Wenger must sign a striker of the highest calibre to complement Olivier Giroud and Lukas Podolski.
It was clear he felt there was an urgent need in this area last summer when the long pursuit of Gonzalo Higuain, and then the sudden ill-fated switch to Liverpool's Luis Suarez, came to nothing. He failed to revisit the problem in January and Arsenal fell short.
A strong, guiding midfield presence is also needed but those scenes after the final whistle at Wembley hinted at a manager with a weight finally lifted from his shoulders and a squad filled with renewed confidence.
No-one but the hardest of hearts would have taken any pleasure from seeing Wenger go out as a loser after all that he has brought to the British game since he took over at Arsenal.
Wenger's decision to stay for another three years - and this is one man in football who never contemplates breaking a contract - suggests he feels he has enough talent at his disposal and enough motivation in his make-up to move Arsenal forward into the next phase of their development.