Paul Kane leads campaign to oust Hibs chairman Petrie
Last updated on .From the section Hibernian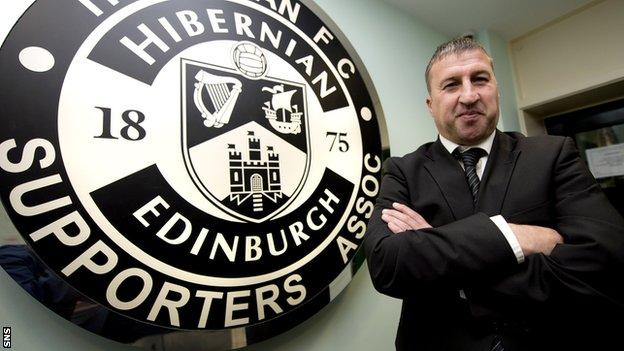 Former Hibs player Paul Kane has revealed a demonstration will be held at Easter Road next Saturday aimed at ousting chairman Rod Petrie.
Kane is leading the "Petrie Out" campaign, with fans angry at how the relegated club has been run.
"If the numbers turn out that I'm thinking of, it would be very hard for Hibernian to keep Rod in the position," Kane told BBC Scotland.
"You do not go against the lifeblood of your club."
Kane was part of a group of fans who met with Petrie on Thursday, after anger grew within the support in the wake of their Premiership play-off defeat against Hamilton Academical.
The club asked that protest action was postponed until new chief executive Leeann Dempster was given time to reveal her plans, but that plea was rejected.
"We went to the meeting yesterday with Rod and asked for his resignation, and for him to severe ties with the club, he refused," added Kane at a meeting of Hibs fans on Friday.
"Leeann Dempster is more than welcome and if she could do it on her own there's a better chance she could succeed without Rod Petrie.
"All the groups have come together and we're very concerned about the club under Rod's leadership. Next week at 11.30 [Saturday] outside the main stand at Easter Road, the Hibernian supporters, who will ultimately make this decision, will be there.
"We hope that the fans will turn out numbers, but please do it in a very dignified manner because it's Hibernian FC we are representing and we don't want anything to lessen our campaign."
There had been suggestions the fans could refuse to buy season tickets in a bid to force through their demands.
"At no time did any of us in the meeting talk about starving the club of money, that is not our agenda," explained Kane, who also admitted the group will "walk away" if they do not receive the backing of the fans.
Kane said the future of manager Terry Butcher was not the issue at this stage.
And Hibs fan Charlie Reid, of the band The Proclaimers, said at the meeting that getting rid of Butcher was not the answer to the club's problems.
"I don't want to see other managers sacrificed as we have done with so many in the past," said Reid.
"Managers who were previously successful have come in here and failed, and some of them have not done well here and gone on to do well at other places, like John Hughes, so you have to wonder that there must be something beyond the playing staff and the players. It must be at boardroom level, a clearout is absolutely vital.
"Petrie has got to carry the can as he's been on the board for 15 years. And he's the only man in history who has relegated Hibs twice, as far as I can see.
"The supporters have got to maintain unity, what Paul Kane said is vital, they don't want to cause a split in the support, there's a clear objective and I think it's an achievable objective."