Roy Keane's Celtic link: O'Shea says O'Neill would regroup
Last updated on .From the section Republic of Ireland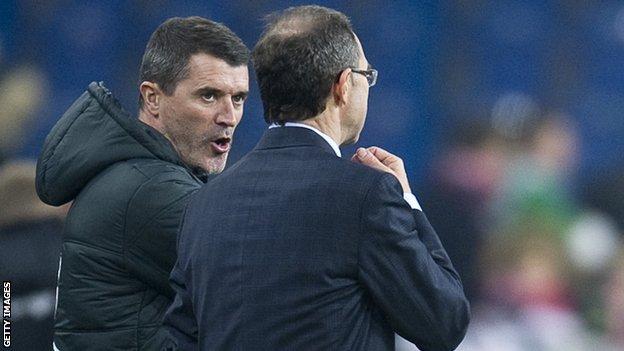 Republic of Ireland's John O'Shea says boss Martin O'Neill will more than make up for the loss of Roy Keane if his assistant becomes Celtic manager.
However, O'Shea says O'Neill will be able to regroup if Keane departs.
"The manager we have is very, very important and very, very talented," said Sunderland defender O'Shea.
"Fortunately we will have time for the manager, if it does happen, to adjust his backroom team accordingly for the forthcoming qualification games.
"In that sense, we are lucky that he will have a bit of time to adjust. He has brought Steve Walford and Steve Guppy in this week as well, so we are fortunate we have the time beforehand, if it does happen, to adjust.
"Believe me, the manager can do it himself as well."
O'Neill's assistant, a former Celtic player, has been installed as favourite for the vacant job at Parkhead after holding informal talks with his former club.
Celtic have insisted that the Corkman, 42, is only one of a series of candidates to replace Neil Lennon but the bookmakers appear convinced that Keane's Republic partnership with O'Neill is going to end after barely six months and before their first competitive game.
The former Manchester United captain was involved in Republic of Ireland training again on Friday but avoided making any comment on the issue, although O'Neill said that there had been no fresh developments.
Asked if his former team-mate had said anything to the players, O'Shea said: "No, no, no. Obviously the lads have been trying to get a few hints here and there, but he's kept a good poker face."
However amid all the reports, the Republic centre-back will not be surprised to see Keane taking the Celtic Park post.
"It looks very much like it now. Slowly but surely, it has snowballed into having talks with Celtic, so I would be very surprised if it doesn't get across the line," added O'Shea.
"If it does happen, it's one of the clubs around the world that was going to entice him back into management and away from his current job.
"As the manager said, we would be very disappointed because we know what a fantastic character he is to have fighting for us on our side going into matches."
Keane will travel to London for the clash with the Italians at Craven Cottage, but whether he boards the plane for the United States next Wednesday with further friendlies against Costa Rica and Portugal remains to be seen.