World Cup 2014: Roy Hodgson must be 'managed' by coaches
Last updated on .From the section 2014 Fifa World Cup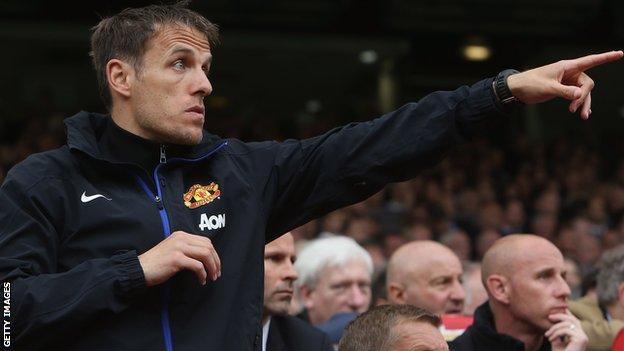 Roy Hodgson's backroom staff will have a key role to play in 'managing' the England coach during the World Cup, believes Phil Neville.
The Manchester United coach says helping Hodgson, as much as the England squad, will be a vital part of the job.
Neville's older brother Gary is part of the staff Hodgson will take to Brazil.
"As a coach, sometimes you have to manage the manager and make sure his thoughts are always on track," he told BBC Radio 4.
Neville, 37, won 59 England caps and played 505 Premier League games for United and Everton before moving into coaching under former David Moyes at Old Trafford last season.
And he explained that the job can include having to support the manager with an arm around the shoulder.
"Sometimes you need to do that, sometimes you need to kick him up the backside," Neville said.
"It is that type of role you have. You are not directly in the firing line but you might see things that other people don't.
"A lot of your work is with the manager and making sure you are sticking to the philosophy he has set out, making sure he is OK every day.
"The biggest job you have as a coach is to stay relaxed, keep the manager relaxed, support the manager and the players, make sure they are doing everything right and prepare the team as best you can."