World Cup 2014: The key questions facing Roy Hodgson

By Phil McNulty
Chief football writer
Last updated on .From the section 2014 Fifa World Cup1364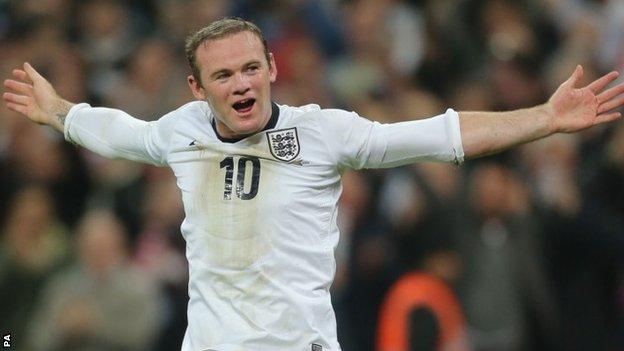 England's World Cup preparations move to Miami on Sunday after Friday's 3-0 friendly win against Peru at Wembley.
The final scoreline was comfortable enough, with goals from Daniel Sturridge, Gary Cahill and Phil Jagielka helping to disguise the fact that some aspects of the performance were unconvincing.
So what questions will manager Roy Hodgson be pondering ahead of the two warm-up games against Ecuador and Honduras in the United States?
Can Rooney and Sturridge excel together?
Wayne Rooney's form and selection is shaping up as a major part of the narrative of England's World Cup build-up. Is he still the automatic choice he has been for England over the last decade?
It seems no lead-up to a major tournament is complete without a forensic examination of Rooney's form and fitness - and Brazil will be no different.
The court of social media was alive with criticism of Rooney's performance in his 65 minutes against Peru but this was wildly out of context with the reality of his current situation.
The Manchester United striker has been sidelined for more than a month with a groin injury and underwent his own personal fitness regime in Portugal before joining the rest of the squad, such is his determination finally to make an impact on a major tournament.
This was always going to be a game where he eased his way back in and got some minutes under his belt as part of the preparation process.
Rooney was enthusiastic but his touch was a little heavy and he spent long periods on the margins of the game. This, however, was to be expected after his spell out and was purely the next part of the plan to have him in peak condition to face Italy on 14 June.
A more pertinent question will be how Hodgson can get Rooney to dovetail with his fellow striker Daniel Sturridge in a workable strike partnership, but all the noises from the manager suggest he will start with Rooney in Manaus.
The next fortnight will shape that decision but surely criticism of Rooney is premature given his lack of match sharpness, which will be honed further over the next week in Miami.
Should Sterling start?

There was some surprise at Wembley that Liverpool's Raheem Sterling, 19, was not given a start against Peru, with Manchester United's Danny Welbeck getting the nod from Hodgson.
Hodgson is a fan of Welbeck, who has delivered for him in the past, but Sterling's introduction in the second half added pace and an ability to run with the ball that England required. He is a more naturally dynamic attacker than the rangy, willing Welbeck.
Welbeck is the more experienced of the pair and has been useful for his versatility in attack but Hodgson must decide whether the mobile, pacy Sterling is more suited to starting in Brazil, or whether he may make a greater impact coming off the bench as a substitute.
Sterling does not lack confidence and whatever route Hodgson chooses will not faze this player of huge promise. He could be a potent weapon for England in Brazil.
Welbeck, on the other hand, is trusted by Hodgson for the strength of past performances and it may just be that counts in the final reckoning.
Who should partner Gerrard in central midfield?

Steven Gerrard is the fulcrum of England's team. The midfield mainstay, leader and captain is respected by the rest of the World Cup squad heading to Brazil.
What Hodgson must decide is who plays alongside him. Gerrard's Liverpool team-mate Jordan Henderson got first crack against Peru at Wembley, fully deserved on the back of a superb season doing a similar job at Anfield.
There is a sense, however, that this place is still up for grabs and Jack Wilshere's lively cameo suggested he believes he is the man who can keep the debate going.
Henderson was not quite his energetic self against Peru but his outstanding natural fitness, as well as plenty of ability and his understanding with the 34-year-old Gerrard, may appeal to Hodgson in the testing South American conditions.
Wilshere is the more creative player but has suffered a string of injury problems. He will need to press his case against Ecuador and Honduras to push Henderson out of the side.
Everton's Ross Barkley is the brilliant young wildcard but with the likes of Rooney, Adam Lallana, Sterling and others vying for positions in midfield and attack, he may have to produce something very special to start.
Those who have observed Barkley regularly, however, know he is capable of doing exactly that.
Can England's defence cope with world's best?

England may be well blessed with an outstanding goalkeeper in Joe Hart, as well as resources in midfield and attack - but will their defence prove a weakness in Brazil?
They conceded only four goals in 10 undefeated games in qualifying for the World Cup, but the feeling lingers that they may be vulnerable to attacking play of the highest quality. England must certainly deal better with runners from deep.
And at Wembley on Friday there was the odd lapse in concentration that allowed Peru a chance or two. Common sense suggests Hodgson and his defence will be working on this in the next fortnight to be completely match sharp by the time their World Cup campaign kicks off. They can also point to that impressive record in qualifying.
Central defenders Cahill and Jagielka were on the scoresheet, while left-back Leighton Baines produced two corners that led to goals. Glen Johnson, however, was sloppy and can do a lot better.
Peru presented very average opposition but still had opportunities. The better players England will face in Brazil - particularly the likes of Uruguay pairing Edinson Cavani and Luis Suarez and Italian maverick Mario Balotelli - may not be as generous.